Moral Victory For Auburn? They Can Have It!
By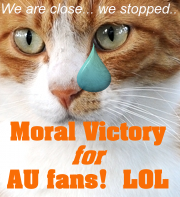 Do you remember the moral victories by the fans of the Shula days? Long gone are those mediocre days. Bama fans have higher expectations now. Our fans now expect perfection…Auburn fans revel now in "moral victories" and dole out excuses like cornbread caviar. To me, it is so funny to see the Auburn fans going from shoving fingers in the air to shoving out lukewarm excuses. Like pigs rolling in mud, they are basking in second place once again like they did in the Bear Bryant era.
Today, we are living in the future of Alabama football.  Nick Saban has a juggernaut in progress that will dominate for years to come and Alabama fans are expecting victory in every game.  Auburn fans on the other hand are having to settle for "moral victories" & are spouting out pitiful quotes like, "It is still great to be an Auburn Tiger."   Notice the "still" part?    So funny!
The exclamations of  "moral victory" proceeding out of the mouths of Au-babies walking away from Toomer's corner with toilet paper kicked up their butts is so hilarious after all the years of taunting from the "sore winners" and now "sore losers."
Exclamations like:
"..at least we stopped Mark Ingram from winning the Heisman"

"Wait until next year, we are improving under Chizik"

"This was almost a great season for Auburn. We'll not be down long. I like this ride already."
...are being passed out like second day dinner rolls on Black Friday.The Aubie nation is eating stale bread while Alabama is 24-0 in the last two regular seasons and riding into Atlanta with a chance to play for all the marbles.  
If all the kitty cats wanted was to stop Mark Ingram, then they did it! Moral victory is becoming good enough for Auburn fans.   If all they wanted to do is "play it close," then they did it.  Great day for the AU fans!   Bama fans no longer settle for Shula-like results.  We expect the best. 
However, I take my hat off to the coaches & players at Auburn. They delivered a competitive game for most of the game, but of course it wasn't good enough.  The coaches could have done more at the end of the game with time management, but the "moral victory" was seemingly already "won" in the minds of the Auburn nation.  Second place was nigh...  they played Alabama "close." 
Next week, the jealous Auburn fans can revel in their "moral victory" and cheer for Florida. It doesn't matter to me....but for the next 365 days, the Iron Bowl trophy will remain in Tuscaloosa for the second year in a row and years to come.   Auburn fans need to get used it happening from now on.  The kitty cats have their "Moral Victory Trophy" to take home as a souvenir from Jordan Hare! 
ALABAMA WON 26-21...  ADMIT IT AUBURN FANS!
ROLL TIDE!
Visit Football Fanatics for Alabama Crimson Tide
Alabama Products For Sale:
Join Our
Alabama Crimson Tide Facebook Page!
Follow us on Twitter! AlCrimsonTide1
http://twitter.com/AlCrimsonTide1

Leave a Comment