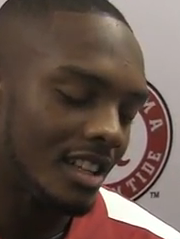 Marquis Maze has been showing up every week in a big way. On the season, he is the leading receiver for Alabama with 31 catches / 355 yards receiving and 504 yards on the return game.
He has filled in the void left by the parting of Julio Jones to the NFL quite nicely. Week in and week out, Maze has provided stability for A.J. McCarron as he begins to get acclimated to playing big-time college football.
As a reliable receiver who is NOT too afraid to go up the middle, Maze has been a comfortable set of soft hands & fast feet for McCarron's accurate (as well as often very conservative) passes. Maze often turns a short throw into a sizable gain with his speed.
When Maze first came to Alabama he showed off his blazing speed in a footrace by beating the likes of Javier Arenas, Terry Grant, Kareeem Jackson, and anyone else on the team who tried to take him on. These guys are now in the NFL making the big bucks.
Much was made about Julio being gone, but Alabama continues to play great in the passing game. No one can argue that Maze hasn't been able to step in to fill the shoes of Jones. While it is true that Maze will never fill the stature of Julio Jones' freakish body size and sheer athleticism, but in his own way he is very dominant even with his small frame. He is lightning fast, has pillow-soft hands, and is agile as a cat.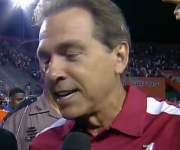 Coach Nick Saban calls Marquis Maze his "go-to receiver." Without Maze, the Alabama passing game (especially in the first 2 games) could potentially be pretty anemic. The second tier receivers at Alabama are honestly pretty mediocre in comparison to Maze.
Early on in the season, Maze became the rock of the receivers corp for McCarron (and at that point, Philip Simms). In the Kent State game, he reeled in eight passes. Against Penn State, Maze pulled in a 29 yard catch to set up Alabama's first touchdown. The list goes on as you look at the first half of this season.
Not only that, Maze has been a game changer in the kicking game.
(Is this beginning to sound a little like Deuce Palmer or Tyrone Prothro? It does me too.)
Offensive players like Maze are invaluable as catalysts for game changing plays. Game changers that can flip the field position in a few seconds or burn a secondary for a long range TD.
Even Maze himself admitted that he was a "dangerous player" this week.
In the Florida game, Maze took a 70-yard kickoff return deep into Florida territory to set up Alabama's first touchdown.   It started as a steamroller that flattened the Gators like an Aligator pancake.  Alabama never looked back.
Against Arkansas, Alabama was up only 17-7 in the 3rd quarter, until A"Maze"ing took the a punt 44 yards on an electric return. The Tide was energized on route to its dominant 38-14 win.
Against LSU, I predict that Maze will be in the wildcat & maybe even under center like Deuce Palmer back in 1992. Saban is going to pull some tricks out of the bag against the Bengal Tigers on Nov. 5th and Maze will be one of his main weapons .
Right now, Coach Saban is trying so hard to not show his poker face, but he can't help grinning. You could see it on full display after the Florida game in the post game interview.
Marquis Maze is very valuable to this team.
He is the ace in the hole for the Crimson Tide. Alabama can win WITH or WITHOUT Maze (we are that good), but Maze is there just in case we need to pull out the right card in order win in an important card match.
…and I know that Saban will use every card he has in his hand to win it all this year.
Can you say Simply A"Maze"ing!
ROLL TIDE!
Visit Football Fanatics for Alabama Crimson Tide
Alabama Products For Sale:
Join Our
Alabama Crimson Tide Facebook Page!
Follow us on Twitter! AlCrimsonTide1
http://twitter.com/AlCrimsonTide1

Leave a Comment