OK Business is Done With Georgia State, Time to Backhand The Cocky Auburn Tigers
By
Oh, it was indeed a scrimmage like atmosphere Thursday night as Alabama brought out the walk-ons to finish off the Georgia State Panthers 63-7. In reality, it was a mismatch of epic proportions. The goal was to simulate as close to a bye week as possible prior to the Iron Bowl, and set our preparations on the battle to come... putting down the cocky Tigers.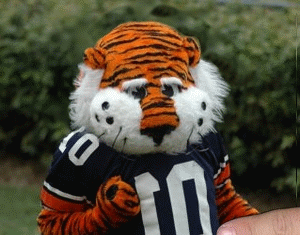 You know the fans are simply unbearably cocky from Auburn. Auburn will be backhanded by the Crimson Tide. Many Auburn fans, simply act like mini-Tommy Tubbervilles. Cocky as h-ll.. and in the end, they will lose.
Have you ever been around cocky people? It is so funny when they get put in their place. I can't wait until Cam & the Tigers come to town. Alabama will pound Auburn relentlessly and dash the hopes of the Auburn nation to win its first national championship since 1905...er I mean 1950...lol
I simply point to the endless comments where they gloat over my (admittedly) miscalculated article in which Kirk Herbstreit said Auburn was going to win the SEC West. Read the crap they said here... I know I was wrong and I admit it. Alabama suffered a down year with only 2 losses this year (and it will stay that way). Alabama replaced nearly our whole defense... however, Alabama's defense is gelling at the perfect time and the offense is on a roll. Auburn
Alabama, this year, had a slight blip on the radar with two losses. It happens to almost every national championship team. However, I really do not think Auburn has the stuff to beat Alabama in Tuscaloosa. The 20 game home-winning streak will continue on to 21 games. The state championship will mean more than anything, because in the end WINNING THE IRON BOWL is rubbing the noses of the Auburn fans in it… all that will be the satisfaction!
Rammer Jammer....bring on Cam the Ham & the Auburn chickens! Not to mention the Auburn Turkey fans for a post-Thanksgiving carving! We are ready to roll!!!!!
Prediction: Alabama 34 Auburn 7
License for phpBay Pro is invalid.
Visit Football Fanatics for Alabama Crimson Tide
Alabama Products For Sale:
Join Our
Alabama Crimson Tide Facebook Page!
Follow us on Twitter! AlCrimsonTide1
http://twitter.com/AlCrimsonTide1

Leave a Comment