Trent Richardson = FREAK OF NATURE!
By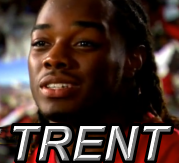 Trent Richardson is FREAK OF NATURE when it comes to the weight room. He has to be one of the strongest football players per square inch of any player in college football today and it shows on the football field. Did you see him plow over half the Penn State defense on the way to a 144 rushing night? The secret? His weight room ferocity.
"Obsessed. I crave it." said Trent Richardson about his weight room training. "The weight room is like my cave. I am a beast in my cave."
This is very accurate symbolism to compare himself to a bear. T. R. is able to bench press 475 lbs, power clean 365 lbs, squat 600 lbs, the list goes on. And that is not really the limit. He wants more! However, Coach Cochran has said "That is all I will let him do."
Trent Richardson came in a Florida weight lifting champion. When asked about his weight lifting abilities as a freshman coming in.. "I came in a lot stronger than all the freshman we had here. Everybody would be like.. ah, this boy is unbelieveable. I was like, man, yeah. I was like... Who going to try me next? Who's going to put more weight on there?"
Strength coach Scott Cochran said that usually he don't let the freshman pick up the big stuff on the power clean but Trent Richardson came in and picked it up like it was a "toothpick"! Trent was begging Cochran to "put some more weight on there" and he said "NOOOOOO!!!!!" ...fearing he would mess Trent up.
When Cochran was asked what one word to describe Trent Richardson in the weight room... "FREAK!" "STRONG" "Everytime he comes in, he sets his mind. Everytime he is going to come in and give me 100%." Cochran said. "And the weight that is going to pick up? Most people can't do it."
Trent Richardson said, "I went up to 460 on the bench press and he stopped me. I wanted to see how much I could lift."
When asked if he fought with Coach Cochran over keeping the weight down, Trent snicker a bit and said "Yeah... When you going to put some weight on there??"
Trent goes on to say that it helps him on the field to "run folks over", "throw bodies off of me," Richardson went on to say, "I'm never going to be taken down by the first person... Thats my goal. My mindset."
Stregth Coach Cochran on watching Trent Richardson bulldoze players last year, "There was one run last year where everyone was bouncing off of him, and everytime I seen one bounce, I felt like I was watching an Ali movie where he is throwing punches... BOOM BOOM BOOM ..and they are all hitting the ground... Next thing you know. Touchdown!"
Richardson explained it best, by saying, "I like to use my speed. I like to use my power." Richardson said, "I like to use the moves that I got. I like to go out there and just have fun."
Oh and it is fun to watch, Trent! Keep up the work, FREAK! 🙂
ROLL TIDE!

License for phpBay Pro is invalid.
License for phpBay Pro is invalid.

Visit Football Fanatics for Alabama Crimson Tide
Alabama Products For Sale:
Join Our
Alabama Crimson Tide Facebook Page!
Follow us on Twitter! AlCrimsonTide1
http://twitter.com/AlCrimsonTide1

Leave a Comment