People Who Believe In The ESPN Gameday Are Wrong
By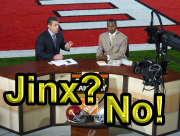 Alabama is being covered today at home on ESPN's Gameday. Alabama is 0-5 with at-home games that have been covered by the show. Now, I am not a superstitious person, but there are folks that beleive it is a "Gameday Hoax".
I find all that talk ridicuous, and more like the thinking of the middle ages rather than the modern world. The fact is, that every game and situation is different, and if you look back through the years, Alabama has been through a rough tribulation period as probation had the once mighty giant of college football crippled. Now, Coach Nick Saban has the team on the verge of dynasty (lets check back in and see if we will the national championship this year.)
So all indicators show that we are headed in the right direction, regardless of concocted superstitious thought patterns by fans and media. Saban will not allow such thought by his staff or players concerning any external factors.
Over the history of sports, there has been a lot of superstitions that have famously been observed by players, coaches, and teams. Michael Jordan used to wear his blue North Carolina shorts under his Bulls uniform for good luck, Wade Boggs would eat only chicken the day of a game, as well as common ones observed basketball teams such as "wiping the soles of your sneakers for good luck" or "touching a mascot symbol before the game".
Overall, there is a lot smaller superstitious that happen on an individual basis by players, but a coach cannot control. I can guarantee you, however, that Saban keeps his teams level headed concerning such negative thought patterns and Alabama will be ready for the game.
Cross your fingers... just kidding!
Roll Tide!
License for phpBay Pro is invalid.
Visit Football Fanatics for Alabama Crimson Tide
Alabama Products For Sale:
Join Our
Alabama Crimson Tide Facebook Page!
Follow us on Twitter! AlCrimsonTide1
http://twitter.com/AlCrimsonTide1

Leave a Comment