Less Than 24 Hours Until Kickoff! Who's Ready for Bama?
By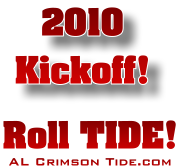 I know that I am! While it is bad that we will miss the services of Marcell Dareus and Mark Ingram in possibly the next two games, I feel like this is going to be a great year to be an Alabama fan. The offense will carry us to victory in most every game, but look for the secondary to gel by the end of the year. They are young now, and it is expected to see some blown coverages by such a youthful defensive backfield, but I see a lot of potential in the group.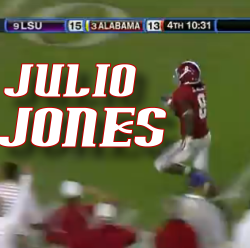 I am hoping to see Julio Jones begin to shine like we all have known he can since day one. The injury bug has gotten him down some in his first two years, but look for him to be one of the top receivers in America. Many people don't pay much attention to the blocking skills of a wide receiver, but Julio is a weapon on the open field and he isn't afraid to lay someone out. With or without the ball, Julio is awesome.
DJ Fluker will be a player to watch this year at right offensive tackle. There is no one on the team, or in the conference, that can compare to the sheer size of him at 6-7 and 340 lbs. He wears a size 23 shoe that led to Coach McElwain asking the question "How many cows had to die to make those shoes?" He was the top tackle recruit in the country, but he came in his redshirt freshman year at nearly 400 lbs. Since that time, DJ has worked hard with strength trainer Scott Cochran to chisel his body down to a solid 340. The result will be a quickness that should lead to some big holes on the right side of the offense this year, as well as some frustrated defensive ends trying to pass rush on him. It has to be like trying to get around a momma grizzly bear to get to its cub. Its just not happening.
The object of pass protection is Greg McElroy. Look for him to have a breakout year. If you remember Jay Barker's senior year, his passing was off the charts his senior year. He is undefeated, and I really beleive he will end up being a legend around the Capstone for years to come. He, much like Jay Barker, is a winner. He competes on every play as evidenced by the sideline hop run in the Florida game in last year's SEC Championship.
Another player to keep an eye on is Dont'a Hightower. He is a big boy at 6-4 260 and Bama will be relying on him to take up the slack of Rolando McClain's exit... whats that? Do I hear the sound of reloading? You can't help but be impressed by him after being out a year with a knee injury and coming back to practice to be the leading tackler on the team and a a newfound fire to lead the rest of the team by being a vocal leader.
We will see a drop in the pass rush a bit without Marcell Dareus in the lineup for the first 2 games, but the first one is not the concern. Penn State will be a worthy opponent and we could use the big guy. Bama is appealing the NCAA verdict to suspend him for games, but don't expect it to be reversed. Marcell will have to watch from the sidelines. However, when he comes back, look to him to be the defensive star in every game he plays. I have had many people ask me about the secondary at Bama being so young, but my question is this, how hard is it to cover wide receivers when the opposing QB is either running for dear life or simply on his back. The Texas game is a foretaste of things to come from Marcell.
There are a lot of story lines for the upcoming year, but there is none more important than the complacency factor. Will Bama be fat and happy, or do you think Saban will have avoided the pitfalls of #1 prognostications? I believe he will because of what he learned at LSU in the year that followed the national championship year down there. There is no way that it will happen to him again. Alabama will leave it all on the field and you can bet on it that Nick Saban has the troups prepared for 2010!
Now lets watch some real football!
Roll TIDE!
License for phpBay Pro is invalid.
Visit Football Fanatics for Alabama Crimson Tide
Alabama Products For Sale:
Join Our
Alabama Crimson Tide Facebook Page!
Follow us on Twitter! AlCrimsonTide1
http://twitter.com/AlCrimsonTide1

Leave a Comment