Video: Bama Needs to Try This Trick Play On LSU! LOL
By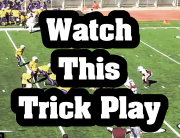 The kids at Driscoll Middle School should be proud. Their names are etched in football history for pulling off one of the trickiest trick plays in football history, while only in middle school. Thanks to Youtube, it is not a story of legend, but it is on video. Legendary plays like this usually occur in college or the NFL, like the "Music City Miracle", Boise State's "Statue of Liberty" on the Sooners, the Dolphins' "Hook and Ladder", or Nebraska's famous "Fumblerooksi." Now, it is the domain of the little tikes as well.
Watch the trick play at the bottom of this video. My idea is that Nick Saban should throw in a trick like this once in the big game. Show the world, we are prudes in the SEC. Look cool.
Yeah, I know tricks don't win games, but Saban has been dialing up some trick plays like the Flea Flicker to Kenny Bell and the Maze pass to Williams on LSU (that unfortunately ended in an interception). So it would not be out of question to dial up another trick play in New Orleans... why not? 🙂 We have the best defense in the land.
It would be fun for Bama. If not this, then something else. Les deserves it! 🙂
Th Driscoll Middle School trick play is ingenius, but we might want to use our backup QB to run it. In case our starter gets killed. Spread the receivers wide and then look for the opportunity to arise where the middle of the field is wide open. Have Vlachos hand the ball to Philip Simms, and then let Simms walk with ball like he is handing it ref. Then run like hell! LOL
The original play for the middle school team was called after a penalty and the reason he got away with it was because he yelled at the center that the ref was marking another 5 yards off. Then he acted like he was handing it to the ref.
It would be funny to pull this on the honey badger!
Watch the video below. It will crack you up how they pull this off!
BTW, notice the other teams colors!
Visit Football Fanatics for Alabama Crimson Tide
Alabama Products For Sale:
Join Our
Alabama Crimson Tide Facebook Page!
Follow us on Twitter! AlCrimsonTide1
http://twitter.com/AlCrimsonTide1

Leave a Comment