Is Saban Putting Les Miles In Hot Water At LSU?
By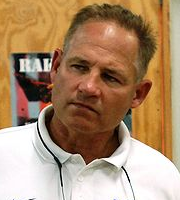 Is Saban's success making the seat of Les Miles at LSU a little hotter by the minute? Not only has he had to sit back and watch Nick Saban built an empire from scratch Alabama, his own judgment in game management was called into question this past year due to some close losses based on time management. We are not saying that he was totally inept, but this past year also proved that he is not the best coach in America right now. Nick Saban is.
Thinking back to the national championship... One has to wonder, if Les Miles just stepped into a great situation at LSU once Nick Saban left for the Miami Dolphins. Was it because of Les Miles had oodles of coaching ability? In a way.. He had some gutsy 4th down conversions that went his way all year long.  But it can also be argued more than anything that the LSU team was liyterally stacked with talent in 2007 due to the superb recruiting done by Nick Saban in the past 4 years.
Let's look at the record of Les Miles since he began his tenure at LSU. Do you realize that Les Miles is only 8-8 in SEC play? Surprised?  This is not to say that he is not doing a good job at LSU.  In fact, his overall season records are not too bad at 11-2,11-2,12-2,8-5,9-4... but keep in mind that perception is more important than reality ...and preception is becoming a bad thing for Les these day.  But if you look at the facts, still you can't ignore the fact tha he has had a pedestrian 17-9 overall mark since the 2007 national championship season.
Only this last football season, Les Miles lost a couple of football games just because of game management.  A perfect example is how they should have beat Ole Miss. Trailing by two points, LSU had the ball on the Ole Miss 32 yard with a couple of timeouts and about a minute left. Instead of running the football and given the field-goal kicker a chance a chance (he had already hit a 50 yarder in this game), Les decided to get real cute by passing the ball three times in a row. They ended up losing yardage and burned both timeouts. With 9 seconds to go, the last time out I was called after wasting 17 seconds. With one second to go, Jefferson spiked the ball and time ran out. Within field goal range, and the players not knowing what to do.  Les had egg on his face as he first claimed he did not tell his QB to spike the ball, but video tape on youtube shows Les gesturing like a spike prior to the play.
Also... Who is looking down the barrel at another top-notch Alabama football team coming down the line and wondering what could have been? That's right. The LSU administrators and fan base have to be concerned about the direction that the LSU football program is taken in the last few years.  Even at the height of the 2007 season, LSU fans still seemed to have Saban on their minds. Les has never been overly popular, and things are not getting any better.
This is become such an issue that LSU Athletics apartment fundraiser Gary Bertman told the Alexandria Town Talk newspaper "No" when asked if Les Miles was on the hotseat. He said, "Criticism? Absolutely, positively, because he is making a lot of money. But hot seat?  no."
Time will tell.  Just the thought that the question is coming up, should alarm Les.  Just think, just a few years ago, Michigan alumni Rich Rodriguez (who Alabama origianlly wanted) and Les Miles were considered the whiz kids of college football. Demand was high for their services, but where do they stand now? Is Les like the proverbial frog in a warming pot that is getting undetectibly closer and closer to boiling point?  Time will tell.. meanwhile, Saban is cruising along working his process to perfection in Tuscaloosa... and putting some logs under the fire of the frog in a pot of water.
Can anyone say "hot seat?"
Visit Football Fanatics for Alabama Crimson Tide
Alabama Products For Sale:
Join Our
Alabama Crimson Tide Facebook Page!
Follow us on Twitter! AlCrimsonTide1
http://twitter.com/AlCrimsonTide1

Leave a Comment