Aubie Men's Basketball Coach Gets The Ax
By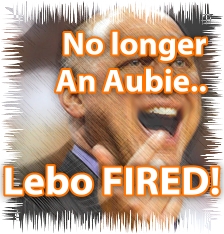 Jeff Lebo, the one-time promising young mens basketball coach, was unceremoniously fired Friday.   The coach led his Aubie round ballers through a glorious 4 losing seasons in 6 years.  Unfortunately, Alabama was not much better and in fact had lost 6 in a row to the toomers until the last game of the season.  Nevertheless, the feeling now is that Alabama is back on the rise, and Auburn has deteriorated in men's basketball in the last six years (Do you remember the Sonny Smith years down there?  They actually were pretty good at times.)
With a sense that Alabama's men's basketball is on the rise & the pressure of having to fill a new basketball gymasium at Auburn, the "university of auburn" decided it was time to cut the wildly unsuccessful men's basketball coach loose.  This is very evident when you consider that the program had a 35-61 overall SEC record under Lebo.  Overall, his overall record 96-93 over a weak schedule filled with 2nd rate teams, seems very pedestrian in hindsight. 
Auburn is now looking for a replacement with the ability to not only coach but also to milk cows.  The reason is a dual purpose.  President Jacobs said in a statement, "..we feel like the time has come for Auburn basketball to move in a new direction."   
Since they have always been known as the "cow college down the road" and it is time to get back to their roots.  Plus, they need to make a little extra money to support the new $90 million basketball gym...  they can't get anyone to buy tickets!  (Have you seen the price of milk these days???  LOL)
ROLL TIDE!!
Visit Football Fanatics for Alabama Crimson Tide
Alabama Products For Sale:
Join Our
Alabama Crimson Tide Facebook Page!
Follow us on Twitter! AlCrimsonTide1
http://twitter.com/AlCrimsonTide1

Leave a Comment