"Big Mouth Ben" Tate Claimed He Was The Best Back In Alabama
By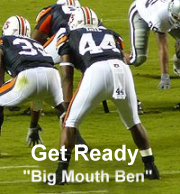 Ben Tate, starting running back at Auburn, was quoted in the Athens (Ga.) Banner-Herald last week as saying,
"I know I'm the best back in the state. I bet, if you went and broke down film and asked teams in the SEC who is the best back in the state, I mean, I feel like it's me."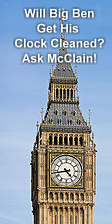 I wonder if "Big Mouth" Ben knows what he did? Thats right... stuck a foot in his own "Big Mouth". A fire will be lit underneath the already stingy defense of Alabama. I fully expect them to put that quote up in the locker room and stand up for their Heisman trophy candidate, Mark Ingram. Not to mention, as oblivious to outside influences as Ingram is these days, it still could add fuel to his seemingly unstoppable motor on the football field.
It is amazing to me how the Auburn nation is starting to get the chip on their shoulders once again yet was chewed up by the Georgia Bulldogs last week. Georgia is a team that has been beat by a lot of teams all year. Ben has not seen the likes of Alabama this year.
Its one thing for Big Mouth Ben to believe he is the best back in state, but it is another thing to prove it. Something he has never done. Even in the last game Auburn won (2007), he only ran for a measly 77 yards. Fast forward to a year later, he carried the ball four times for 12 yards. It is so true that actions speak louder than words.
The Tide's Defense will be salivating. This defense is one that hasn't given up 100 yards to a single running back since Oct. 13, 2007. That was to Ole Miss tailback, BenJarvus Green-Ellis.
Granted, Tate has retracted a bit in his enthusiam over his own talent being superior to Ingram's when he was asked is he really said that, ""Maybe," Tate said coyly on Wednesday. "Maybe I didn't." Tate went one to put a little sugar on top by saying...
"I've seen a couple of their games," Tate said. "I've watched them and I've said it before and I'll say it again: He's a very good running back. He's having a great year. Their team is undefeated. He's a great running back. I hope he wins the Heisman. Honestly, I'm serious when I say that because he'd be the first running back to win it since Reggie Bush, and I think he's got the opportunity to do that."
He is too late with the platitudes following an obvious slap in Ingram's face.  Once the toothpaste is out of the tube, it is hard to put back in.
If he is thinking he is the best in the state of Alabama... the game is on Black Friday. Prove it, "Big Mouth Ben."
Visit Football Fanatics for Alabama Crimson Tide
Alabama Products For Sale:
Join Our
Alabama Crimson Tide Facebook Page!
Follow us on Twitter! AlCrimsonTide1
http://twitter.com/AlCrimsonTide1

Leave a Comment