"Robbery Top" Tennessee Video
By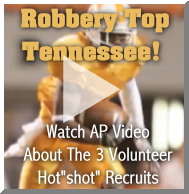 I hate to hear about those boys at Tennessee robbing folks, but it does remind me of a joke..
What do Tennessee players wear ORANGE??   They wear it to the game on Saturday, go hunting on Sunday, and they need the jumpers for when they go to the TN state pen on  Monday!
All kiffin (I mean, "kidding"...same thing) aside, this isn't the first time that Tennessee players have had trouble over the years with their players getting arrested.  No program in the SEC is really immune, maybe Vandy or Kentucky, but overall Tennessee has garnered a reputation for sending as many players to the clinker as the NFL.  So much so, they have even been called "Thug" university many times over the years.
You think this will help TN recruiting? Granted, this is a black eye on the SEC and I wished it had not happened, but things like this will pass.  I hope they get their lives together and serve society in a productive way...I just don't believe it should be in the the SEC.  We are getting a bad enough reputation as it is.  A SEC scholarship is something that is a privilege, not a right.
I think it is pretty egregious if this crime gets just a slap on the wrist.  It really should be charged as a felony, but that is for the courts to decide.  The victims had no idea it was just a pellet gun.  Behavior like this should not be tolerated in a civilized society.   There is no word on charges relating to drug possession, but the young TN players reportedly had marijuana in the car.  I have heard some people say that marijuana is ok and that it should be legalized.   It isn't!  I believe that it is completely wrong, and that it leads to petty theft and even armed robberies like this one.
The three players are charged with attempted robbery.  Reports today are saying that the 3 players will not make the trip to play against Mississippi tomorrow.  The way it is looking, those players have more to worry about than simple game preparation... more like getting prepared for court.
Visit Football Fanatics for Alabama Crimson Tide
Alabama Products For Sale:
Join Our
Alabama Crimson Tide Facebook Page!
Follow us on Twitter! AlCrimsonTide1
http://twitter.com/AlCrimsonTide1

Leave a Comment