Gunslinger's Showdown – Arkansas' Ryan Mallett Vs. Sheriff McElroy
By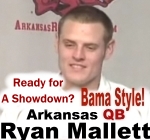 There's a new "hog" in town in Fayetteville, Arkansas who knows a bit about tossing the pigskin.  His name is Ryan Mallett and he has the pedigree to prove he's not a runt of the litter.  Georgia dodged the bullet facing the gunslinger originally from Texas... but never forget Bama has their own Texas gunslinger, Greg McElroy.  Next Saturday is high noon and it will be more than 10 paces on the town square.  It will be who will win the SEC "WEST!"
Arkansas Ryan Mallett (he should be wearing the black hat of course) facing the good sheriff in town, Greg McElroy, will be facing off to see who will be the last man standing tall.  Greg with his sidekick Julio are ready for battle.  Coach Saban said the knee bruise of last week that kept #8 himself out of the lineup against North Texas, will not hinder the Freshman All American Receiver.  Check...first bullet in gun.  Second thing that is looking good is the secondary receivers.  11 receivers in all caught passes so there are are a couple more bullets.  Ingram, Trent, and the line account for a couple more bullets.  Overall, it is looking that G.M. is well armed on defense for the shootout at the T-town coral...but is that all of the story? 
Lets look at our defense.
I will sing the praises of our defense, but if there's one reason to be concerned about any spot in the Alabama defense, it is the pass coverage.  Alabama ranks number three in total defense in the country, and is ranked number two in run defense, but it ranks number 13 in pass defense.  This is the weakest link besides kickoff coverage.
Up until this point in this year, we have not faced a pass oriented team that could pass with any kind of success.  In the two losses that Alabama had last year, Florida and Utah, pass defense proved to be the dagger in the heart of Bama's vaulted defense. 
Alabama will absolutely have to do better this week than it has done all year on pass coverage because there is the hogs coming to T-town this week.  If you aren't worried about this game, then you simply haven't paid attention to what is going on an Arkansas. 
No pigs are flying in Arkansas, but the pigskin is!  Just watchout BAMA!   Only a sophomore, the QB Recruiting Phenom Ryan Mallett just last week set school records against Georgia in passing yards and touchdown passes in their loss to Georgia.  In that game, he had 408 yards and five touchdowns.
With that said I believed that Alabama's defense is tougher than Georgia's and our running game can control the clock, keeping Mallett off the field.  The most important thing that Alabama can do this week against Arkansas is to rush the quarterback into throwing the football faster than he wants to throw it.
Our defense and the ends need to really pinch down and rushed the quarterback in passing situations while the interior line collapses the pocket.  This will release the pressure off of the defensive backs to maintain tight coverage for such a long time. 
Don't Fool Yourself... Mallett Has Skills To Throw
Keep in mind, Mallett is very talented and is starting to come into his own.  He was one of the top quarterbacks to come out of high school as a senior in 2006.  He was right to number two quarterback in the nation and the number four overall player by Rivals.com.  He was the Gatorade player of the year in Texas.  This guy is a stud quarterback and Bama is going to make him pay for standing in the pocket.  We need to make him run, and make him run often. 
Mallett originally went to Michigan and later transferred to Arkansas.  This is his first season as a starter after a redshirt season for coach Bobby Petrino.  Petrino has been credited with training top quarterbacks such as Brian Brohm and Jake Plummer of NFL fame.  Petrino knows offense and he simply has more weapons this year at his disposal than last year's dreary team. 
Add this to the fact that the arm strength of Mallett is out of this world with him reportedly being able to toss the football 80 yards.  Bama will be tested, but I believe we can keep the pigs from flying!   And we have our own gunslinger, Sheriff McElroy, who is amazingly good at hitting his target, as well!  If we will rush the QB, use McElroy effectively in a balanced attack, we will win the shootout at 2:30 (not high noon) in T-Town! 
Roll Tide!
Visit Football Fanatics for Alabama Crimson Tide
Alabama Products For Sale:
Join Our
Alabama Crimson Tide Facebook Page!
Follow us on Twitter! AlCrimsonTide1
http://twitter.com/AlCrimsonTide1

Leave a Comment