Some Idiot Poisoned Toomers Corner's Trees!
By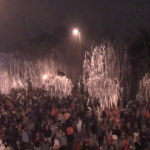 I thought it was an idiotic fan who was just blowing smoke on Paul Finebaum's show in late January, but the crazy caller was for real! He called Paul Finebaum's radio show and said he had poisoned the trees on Toomer's corner following the Iron Bowl.
He said: "I put Spike 80 DF in them," the caller proclaimed. "They will die."
Finebaum then asked the caller why.
"Do you think I care? I really don't," the caller stated.
Auburn University officials are now confirming that the famous oak trees at Toomer's Corner were indeed poisoned with a lethal dose of the herbicide tebuthiuron. It was confirmed that the trees are most likely not going to survive the attack.
I do not understand this man's thinking. I know I always hated to see the trees of Toomer's corner rolled just like the next fan, but the thought of doing such a heinous act is no indication of how the normal Alabama acts. It is purely despicable and an overt act of spiteful vandalism.
I believe that Auburn has a right to follow their storied traditions, just as much as the Crimson Tide should follow theirs. The rivalry should never sink to the all-time low of damaging property or attacking people (or plants in this case). In fact, I hope the story doesn't stick to the Alabama fan base like the stupid brick-in-the-window story of years past.
99.99999999999999% Alabama fans are class acts, so I hope this one individual doesn't bring infamy to our fan base, because it simply is not a true indication of what we stand for. We stand for the values that Bear Bryant stood for, class, integrity, honor, pride, the list goes on.
Its a fact that vandalism has gone both ways in the series, but not quite to this level. Alabama's Paul W. Bryant Statue had some minor defacement, as well as damage to the grounds of the Walk of Champions. The university now has policies in place to monitor those problem areas.
If you hear about the trees on Toomer's corner dying, don't laugh. Something could happen to Alabama's prized landmarks. Vandalism is nothing to be celebrated. The trees of Toomers Corner add so much richness to the Iron Bowl rivalry, and it will be a shame to see the beautiful old oaks go.
Jay Gogue, President of Auburn University, released the following statement today:
"We will take every step we can to save the Toomer's oaks, which have been the home of countless celebrations and a symbol of the Auburn spirit for generations of Auburn students, fans, alumni and the community... It is understandable to feel outrage in reaction to a malicious act of vandalism. However, we should live up to the example we set in becoming national champions and the beliefs expressed in our Auburn Creed. Individuals act alone, not on behalf of anyone or any place, and all universities are vulnerable to and condemn such reprehensible acts."
University of Alabama Athletic Director Mal Moore issued the following statement on the incident:
"It's an awful act, a terrible thing to do. A lot of what makes our two programs so special is our many unique traditions. So, hearing this about Toomer's Corner is upsetting to me in several ways. I certainly hope that whoever is responsible is held accountable."
The Feds are now on the case and there is a real danger of the poison seeping into the ground water table at Auburn. Anyone with information about this case is asked to call Auburn police at (334) 501-3110 or anonymously by voice or text on the tip line at (334) 246-1391.
Visit Football Fanatics for Alabama Crimson Tide
Alabama Products For Sale:
Join Our
Alabama Crimson Tide Facebook Page!
Follow us on Twitter! AlCrimsonTide1
http://twitter.com/AlCrimsonTide1

Leave a Comment