Are You Glad Bama Has Saban & LSU Has Miles? Me Too!
By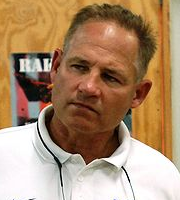 If you simply look at pure raw recruiting talent, LSU has to be one of the elite teams in the SEC, however, it seems like Les Miles has lost the keys to the car. Nick Saban, on the other hand, seems like he is fine tuning a race car as Alabama is looking good.
Granted the level of competition from SJSU is different than North Carolina, but seem like Les Miles is lost at sea like a sailor without a compass as he starts the season. LSU barely won Saturday night against a North Carolina club stripped down to the bare bones as 13 players had to sit out the opener. In total, there were seven starters missing on defense, and nine total, but bumbling Les Miles barely escaped with a victory.
Most prognosticators said that LSU was would walk into the Georgia Dome Saturday night and run rough shod over NC on their way to an easy win. It did not happen. In fact, the never-say-die Tar Heels came within a dropped TD pass of actually winning the game they were supposed to lose badly.
Les Miles, it seems, can't win, even when he wins. Saban is a thorn in his heel, and anything short of Saban-esque is not good enough. Saban could recruit at LSU. Everyone knew that and many pointed to Saban's recruits winning the national championship for Miles.
The angle most people forget to think about is Saban's ability to develop that talent. Since Saban left LSU, the talent pool has continued to be good on the recruiting front, but if you look at the numbers, the level of play has dropped steadily since Mile's national championship year.
My guess is that Miles got on the Saban's ship at LSU that was left in port and Miles got extremely lucky. Now Miles is drifting miles away at sea. In fact, if you look one of his latest tweets on twitter, you can see that he is tweeting strange made-up-words. Take a look!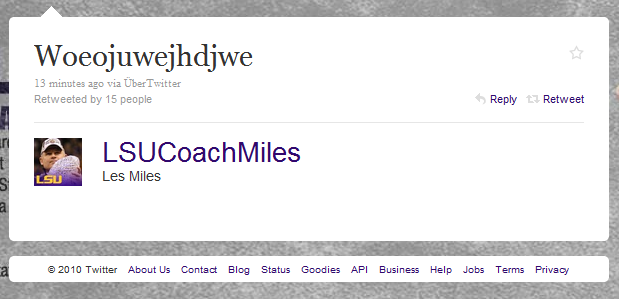 It is supposed to be funny, but the frustration is building and the shadow of Nick Saban is getting larger for the Michigan native who likes to wear a ball cap.
All I can say is that I am glad we got Nick Saban & LSU got Les Miles!
License for phpBay Pro is invalid.
Visit Football Fanatics for Alabama Crimson Tide
Alabama Products For Sale:
Join Our
Alabama Crimson Tide Facebook Page!
Follow us on Twitter! AlCrimsonTide1
http://twitter.com/AlCrimsonTide1

Leave a Comment