Following Disaster, Auburn Showing Class Towards Tuscaloosa
By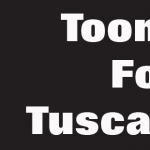 It goes beyond rivalry, Alabama and Auburn are undoubtedly arch enemies with an ax to grind. However, the Iron Bowl's Cold War seems to be thawing a little in the wake of the tornado outbreak that has impacted Tuscaloosa so much.
The tornadoes took a destructive path that literally carved a place in the state of Alabama, not just Tuscaloosa. However, there is has been a real show of support by Auburn fans to support Tuscaloosa.
In the last week, athletes from Auburn played a big part in helping in the cleanup & relief efforts in places like Birmingham, Cullman, and Pleasant Grove. Approximately 70 players and Auburn staff members came to the areas affected and assisted in the cleanup.
"First of all, I just want to say our prayers are out to the people," Chizik said. "You can't understand what it is and what it's like until you see it in person. It's total devastation. Our hearts go out to the families."
Auburn showed class. They did make a big deal out of what they did. They weren't all decked out in Auburn paraphernalia. They did not get out of limos or lugg around a crystal football. They just went to lend a helping hand to fellow Alabamaians.
Toomer's For Tuscaloosa
On Facebook, there has arisen a Facebook page called Toomer's For Tuscaloosa for all the fans that are supporting their archrivals town. (Toomer's, if you didn't know already, is the spot in Auburn where huge oak trees are covered with toilet paper after an Auburn win.) The idea probably arose following the groundswell of support by Alabama fans following the poisoning of the oaks several months ago.
Toomer's For Tuscaloosa has been so popular that it has moved to its own site to be able to give out the needed information on drop-offs for relief supplies. The site, http://www.toomers4tuscaloosa.com, is very informative in its efforts to help through donations from the family family.
Auburn's Student Government Association conducted a blood drive for victims across the state. The response was huge as lines to give blood were 2 hours long. In offering an olive branch, Auburn's football letterman association asked that all associated donate to "for our friends in Tuscaloosa."
What it all boils down to is this...this is real life. Auburn and Alabama is just a game. Most people on both side get it.
When it comes to hard times, we are all family in the greatest state of the nation, Alabama. I am glad the Auburn folks are standing shoulder to shoulder in this terrible tragedy. That is real class.
We may fight like cats & dogs about our football, but we also love one another like siblings too. Tragedy brings us together.
Considering what has happened this last week, the words "Roll Tide & War Eagle" can be said together proudly in the state of Alabama.
Visit Football Fanatics for Alabama Crimson Tide
Alabama Products For Sale:
Join Our
Alabama Crimson Tide Facebook Page!
Follow us on Twitter! AlCrimsonTide1
http://twitter.com/AlCrimsonTide1

Leave a Comment