Alabama Takes on Ole Miss Today in Men's Basketball
By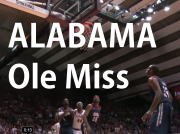 Alabama Takes on Ole Miss Today in Men's Basketball
Alabama plays Ole Miss today in men's basketball and the game is set for 3 PM Central standard Time. The game will be to the televised on the SEC network and streamed via the internet on ESPN3.
A few weeks ago, Alabama's season looked much bleaker than it does now.
Things are looking good for Bama getting into the NCAA men's basketball tournament, and with a fairly decent seed.
Riding high on a 5-game winning streak, Alabama's freshmen have started to contribute more and you see a better overall team than earlier in the season (even when ranked #12).
The secret sauce? Unselfishness.
Coach Anthony Grant knew what he was doing when he took out the "entitled" players in JaMychal Green & Tony Mitchell. Green is back after sitting and seems to thrive now as a team player.  Nothing like a bit of bench time to make for a new attitude.  Tony Mitchell, on the other hand, is out for the season.  We will see if he returns next year.
The end result of all this discipline by Anthony Grant has been a blossoming of other players on the team.  Especially the freshmen in Lacey, Cooper, & Randolph.  Today, Alabama stands alone as a much better team.
Today's road trip to Oxford, Mississippi won't be an easy task.  Ole Miss, also, has their own tournament aspirations for NCAA tournament.  Long shot, but they are hoping to make a run with a win over Bama and catch a few wins in the SEC.    Sitting right now at a 17-12 record, Ole Miss is a legitimate bubble team for the NCAAs, but its a long shot at best.  It looks more reasonable for them to go to the NIT, even if they can beat the Tide
Last month, Bama's game with Ole Miss was nothing but a heart breaker for the Ole Miss Miss Rebels, as Bama beat them in double overtime.  Look for much of the same thing in today's matchup.
Win today and Alabama gets a bye in the opening round of the SEC tournament with a coveted fourth seed. 
A win today by the Tide will put another win over a top 60 RPI team on their resume before the end of the regular season.  This is a big game to nail down a higher bid in the NCAAs.
Ole Miss is going to be a challenge.  There is no doubt. 
Ole Miss relies heavily on inside power game led by 6'10" senior Terrance Henry's 12.4 pts/game and 6'7" junior Murphy Holloway. Both players pose a big problem on the backboard. Another player on this tremendously physical front-line, is 6'9" junior Reginald Buckner, who happens to be one of the SEC's top shot blockers. Bama has to neutralize this frontcourt with its quickness and defense. It will also be important to block out and play good basketball to succeed in Oxford today.
It's never a easy win going on the road into the "Tad pad", or Tad Smith Coliseum, on the campus of the University of Mississippi.  In the last decade, Alabama has only one there 3 times.   It's about time that Bama makes it four.
ROLL TIDE!
Visit Football Fanatics for Alabama Crimson Tide
Alabama Products For Sale:
Join Our
Alabama Crimson Tide Facebook Page!
Follow us on Twitter! AlCrimsonTide1
http://twitter.com/AlCrimsonTide1

Leave a Comment