Worried about the Alabama Defensive Line for Next Year?
By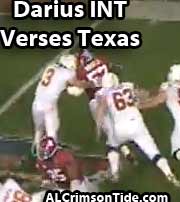 You shouldn't be. Even though Alabama is losing 3 defensive line starters, Lorenzo Washington, Brandon Deaderick, and the big man in the middle, Terrence "Mount" Cody, there is plenty of defensive line experience coming up on the team.
The obvious hole in the defesive line that needs to be plugged this fall is the one by big All-American Mount Cody. A massive specimen of a player at 355 pounds, the big guy made it nearly impossible for teams to run up the middle of the Alabama defense. He was a force of nature (hence the nickname "Mount"), but another player who is coming along who is shaped like a bowling ball. His name is Josh Chapman, and he is poised to take his place at noseguard and make his mark on the 2010 Crimson Tide.
Josh Chapman, junior nosetackle, played a good bit in 2009 in third-down situations in order to rest Mount Cody. He has a a lot of game day experience and at 6'1" tall and 305 pounds, you can see why I say he is shaped to be like a bowling ball. Of course, he is not nearly as big as Cody, but what he lacks in size will be made up in strength and speed. He is widely considered on the team to be the strongest player in the weight room lifting close to 700 lbs. He also provides a lot pass rushing ability in the middle with more speed than Cody. I think Chapman will be a key cog in solidifying the defense for next year. .
One of the players that you might see battling with Chapman is Kerry Murphy. Kerry Murphy is the player that many wondered if he would ever get to Alabama. Murphy, like Chapman, came from the Alabama football powerhouse in Hoover (known nationally for its MTV reality show). both of these two players rotating in and out of the middle. A little taller player at 6'5" tall and a little heavier at 327 pounds, Kerry Murphy is no small fry. Both him and Chapman will be in the mix for nose guard in the 2010 football season. Nick Saban is working on Murphy now to improve his conditioning. Players on the team said that Murphy is a "crazy athlete." In fact, he can do back flips! Not just one either... but two in a row!
Chapman & Murphy are so highly regarded by their teammates, they are called "human earth movers." Think of bulldoziers... That is a really good sign that we are going to be strong in the middle of our D.
One of the top defensive lineman to be on lookout for this fall is junior Marcell Darius. Darius came out the gate this season with two tackles & 1.5 sacks against Virginia Tech in the season opener. Many around the Alabama Crimson Tide program think that Marcell Darius will ABSOLUTELY be the next great defensive lineman for the Crimson Tide. We got a little taste of this in the national championship game when he intercepted a pass for a touchdown and also knocked Colt McCoy out of the game. On top of that, he was in the face of the Texas quarterbacks all night long. He will be a force in his junior and senior years if he stays healthy.
Another player to watch is Damion Square. He actually did a great job on pass rushing duties last year until he hurt his knee. Most likely he's going to be limited in the spring, but you should see him full speed by fall.
Other backups who may be fighting for a job include Darrington Sentimore, William Ming,and Brandon Moore. Brandon Lewis a junior college signee from this years class could be an early force.
Folks we have the numbers, some even have some good playing experience, but I don't think we will see much of a drop-off in defensive line performance next fall. Saban has the talent deep at Alabama. Look for new players this year like Kerry Murphy or even one of the young redshirt freshman players like Brandon Lewis or William Ming to step and contribute.
On the defensive line, Alabama is simply reloading. Sure I hate to lose Mount Cody, but the future is bright! I can't wait to see 2010 and the new defensive front!
ROLL TIDE!
Visit Football Fanatics for Alabama Crimson Tide
Alabama Products For Sale:
Join Our
Alabama Crimson Tide Facebook Page!
Follow us on Twitter! AlCrimsonTide1
http://twitter.com/AlCrimsonTide1

Leave a Comment