The Fish That Got Away & Unlikely Alabama Walk-On Heros
By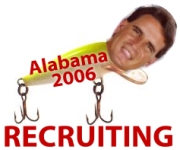 Everyone knows the stories of the fish that got away, well, recruiting is kind of like that. Not every 5-star prospect will pan out, while some of the lightly recruited players will shine when inserted into gameday action.
I will never forget the 3rd string QB, Gary Hollingsworth who walked onto the Alabama team and become a star in the late 80's. Even burned Tennessee for 379 yards passing in one game under the gameplan of the offensive genius Homer Smith.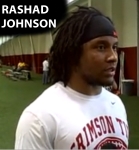 In recent years, walk-on Rashad Johnson became an All-SEC & All American player at safety. In the 2008 game versus LSU Johnson had three interceptions, including one that he returned for a touchdown, and one in overtime that helped Alabama win the game and secure the SEC West Division crown.
We all know how All Pro QB Philip Rivers got away from the Tide to go after playing locally at Athens High School. It happens a lot more than you might think with today's scholarship limitations. Gone are the days of Bear Bryant stockpiling talent for the sake of haing it.
The one that got away...

Now lets look at a player that got away.. and was under the noses of the Mike Shula regime...and snapped up by none other than Conneticut.  His name is  Lawrence Wilson (See picture to left).  You will hear his name in the NFL soon.  Slightly undersized, at 6-1, 217,  this game changing player is rolling in the honors and is poised to be a first round draft pick next year. He was Big East's leading tackler in 2009.  He just makes plays and has set all kinds of Big East records, and he grew up playing in Tuscaloosa's Paul W. Bryant High School.  Yeah...only a ston's throw away from the Capstone.  Alabama didn't even offer him a scholarship, so Wilson packed his bags and headed to Huskie land. In 2010, he is combining with another two-star LB Greg Lloyd Jr. (Clermont, Fla.) to be the Big East's best linebacker duo.   I wish him luck, but it would have been nice to have signed him instead of a player like Tremayne Coger.  Hind sight is 20/20 however.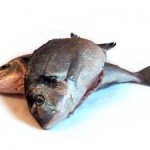 Oh well...it is fun to talk about the fish that got away, but it is even more fun to enjoy the fish we caught. That year we did get 4 nice starters and some possible linemen that might could step into a spot in their senior year. For the most part, the class was not a big catch.  Good players who did come out of it... Andre Smith, Gred McElroy, Javier Arenas, Marquis Johnson, & Justin Woodall.   A few of the busts include Mike Ford, Jake Jones, Sam Burnthall (Quit in Fall 2008), Tremayne Coger (Quit in Spring 2008)...  do you see a pattern here?  Many rated this 2006 class a B+, which is pretty much where I would rate it, but would not have gotten that without McElroy in it.  McElroy was a fish that almost got away since he was committed to Texas Tech at one time.  He has the heart of a champion, and I look to see even better things form him in 2010.
Since Saban has come in, there has been a higher standard with 3 classes rated in the top 5 of nation.   Saban started turning thing around in the years following years. In the coming weeks, we are going to review this year's recruiting class as I plan to introduce you to each one of the players.  There are some boys that will knock some heads this fall, especially in the secondary. 
ROLL TIDE!
Visit Football Fanatics for Alabama Crimson Tide
Alabama Products For Sale:
Join Our
Alabama Crimson Tide Facebook Page!
Follow us on Twitter! AlCrimsonTide1
http://twitter.com/AlCrimsonTide1

Leave a Comment