From "Lame" Kiffin to Lane Kiffin, Give Him Credit!
By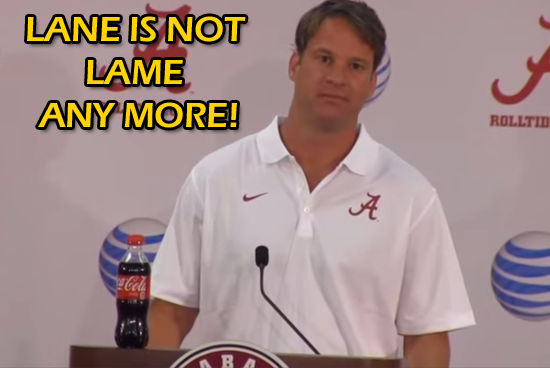 When Lane Kiffin was coach of Tennessee, we had some fun with his name and called him Lame Kiffin.  No more is he called that.  His name is now respected in the Crimson Tide nation as the offensive coordinator of the Crimson Tide.  He has done wonders with an offense that really needed help this year.   Yes, Alabama had the ultra-talented Amari Cooper & a stable of running backs coming back this year, but there was the problem of finding a new quarterback leading the Tide and Kiffin had a reputation for coaching up QBs over his career.
This year, Alabama's offense is respectably ranked 20th in the nation.   The result was a boost of over 30 yards per game from last years squad with its veteran QB AJ McCarron.
Opponents have noticed, as Auburn Coach Gus Malzahn  said this week about the Tide, "They're not as traditional as they once were."
Part of the reason is the up-tempo offense that Alabama now runs.  If you compare Alabama and Auburn last year, Auburn was the team that pushed the tempo.  Now Alabama is the team pushing for more plays per game.  In fact, they are outpacing the Auburn Tigers in plays per game this year 73.7 plays to AU's 71.2 per game.
Lane Kiffin has played to the strengths of Blake Sims and made a lot of short throws over this season, but he has also had a few go long.  There was only a few times that Alabama really looked out of sync but still found ways to win (except the Ole Miss game).  Overall, his offensive schemes have kept opponent defenses guessing.  Kiffin takes the running backs, tight ends, and wide receivers and places them in a multitude of alignments pre-snap in order to get the mismatches he wants.  Against Florida, he used 13 different formations in the first 15 plays.  The defenses can't figure it out.  He even pulled the trick fat-guy (I mean tackle) eligible wide receiver play in overtime against LSU.  The players and the fans are loving the new Tide.
I would expect Lane Kiffin to do the same against Auburn.  He will open the playbook against Auburn and the game may be scripted even deeper than your usual 15 plays as Bama needs to win this game to have a chance to get into the college playoffs.   You will see a new level of offensive wizardry that will even make Gus appreciate what Bama has a offensive coordinator.
I think it is time we all tip our hats to Lane... he deserves credit for a job well done so far.  Thank you Lane... you are no longer Lame!
ROLL TIDE!
Visit Football Fanatics for Alabama Crimson Tide
Alabama Products For Sale:
Join Our
Alabama Crimson Tide Facebook Page!
Follow us on Twitter! AlCrimsonTide1
http://twitter.com/AlCrimsonTide1

Leave a Comment