Is 2014 THE Most Important Iron Bowl in the Nick Saban Era?
By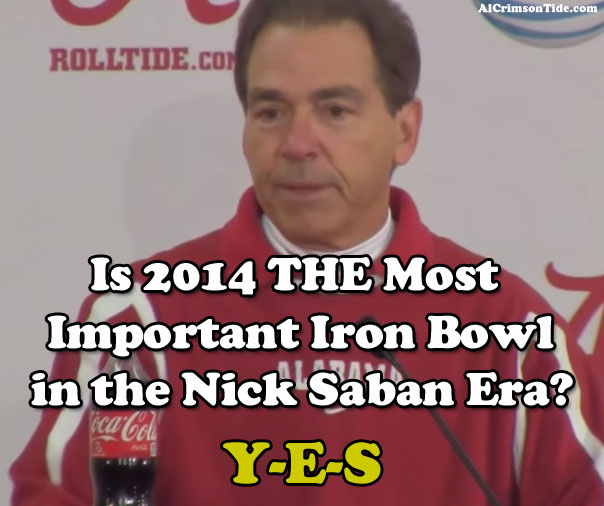 The question today is this...is this THE MOST IMPORTANT Iron Bowl of Nick Saban's era at Alabama? Gus Malzahn and the Auburn Tigers beat Alabama last year with a heartbreaker at Jordan Hare Stadium. Not that this is without precedent. In 2010, Cam Newton orchestrated another heart rending comeback to beat Alabama 28-27.
Alabama followed that year with two beat-downs of Auburn 42-14 & 49-0. Then the Mother of all Iron Bowls happened last year. The worst fear of any Alabama came true. Auburn stopped Alabama from winning a 3rd straight national title and even went to the national title (only to ruin the SEC's winning streak of national titles). The world of college football was turned on its ear by the upstart Auburn team & its evil offensive genius, Gus Malzahn. The SEC no longer ruled the roost. Alabama then lost to Oklahoma in the Sugar Bowl to a game that the players did not want to seem to want to play.
Fast forward to Spring... a new attitude emerges. Talk of a new team chemistry beginning to brew, however there is lingering doubts about the quarterback situation. Jacob Coker transfers in during summer and Blake Sims is thought to be the odd man out by many talking heads. However, Coach Saban saw something in the fall practices that showed Sims was a real leader. Throwing the ball smartly and able to punish defenses with his feet, Sims took over the job.
With one loss this year, to Ole Miss, thoughts of Alabama being on the decline in the Nick Saban era began to bubble forth. Was Alabama dominance in college football on the decline? Even last year's QB, AJ McCarron, was throwing his two cents in by saying...
"I think one of the things that this team is lacking that hurts them the most is not having the true leaders like we had last year and guys that, when things go bad, 'hey, let's calm everybody down, pick it back up and go back to work and get back on the right track. I feel like when things go bad, this team struggles a little with bouncing back and making good plays."
Nick Saban was quick to respond this criticism by saying...
"I don't know how AJ would really know, but I don't necessarily see that as the case,"
Following the Ole Miss loss, Coach Saban also assured the fans (and really the players too), that "Every goal that we have as a team is still in front of us," Saban said. "We must improve and respond the right way to losing."
Respond they have. Since then, the Crimson Tide has went undefeated, beat the #1 team in the country, Mississippi State, and now stands at the pinnacle of success once again. All that stands in the way? Auburn.
Auburn is like the little brother that always causes trouble. Is time to put them back in their place and show them what real man football is all about. It will give Alabama a chance to win 3 championships in 5 years (or 4 in 7) and stake a claim to being college football's premier powerhouse. It will also put the SEC back on track if Bama can take care of business SEC chmpionshop and in the playoffs. However, Auburn stands in the way once again.
Saban's need a win in this years Iron Bowl. Alabama has always been the gold standard of college football. If Alabama loses, Nick Saban will be 4-4 vs. Auburn. If we win, Saban continues to roll on to bigger and better things. Recruits will continue to flock to the Capstone... and Gus Malzahn will no longer seem like the cool guy on the sidelines anymore.
Let's hope that's the case! Check out the alternative in the video below!
Roll Tide.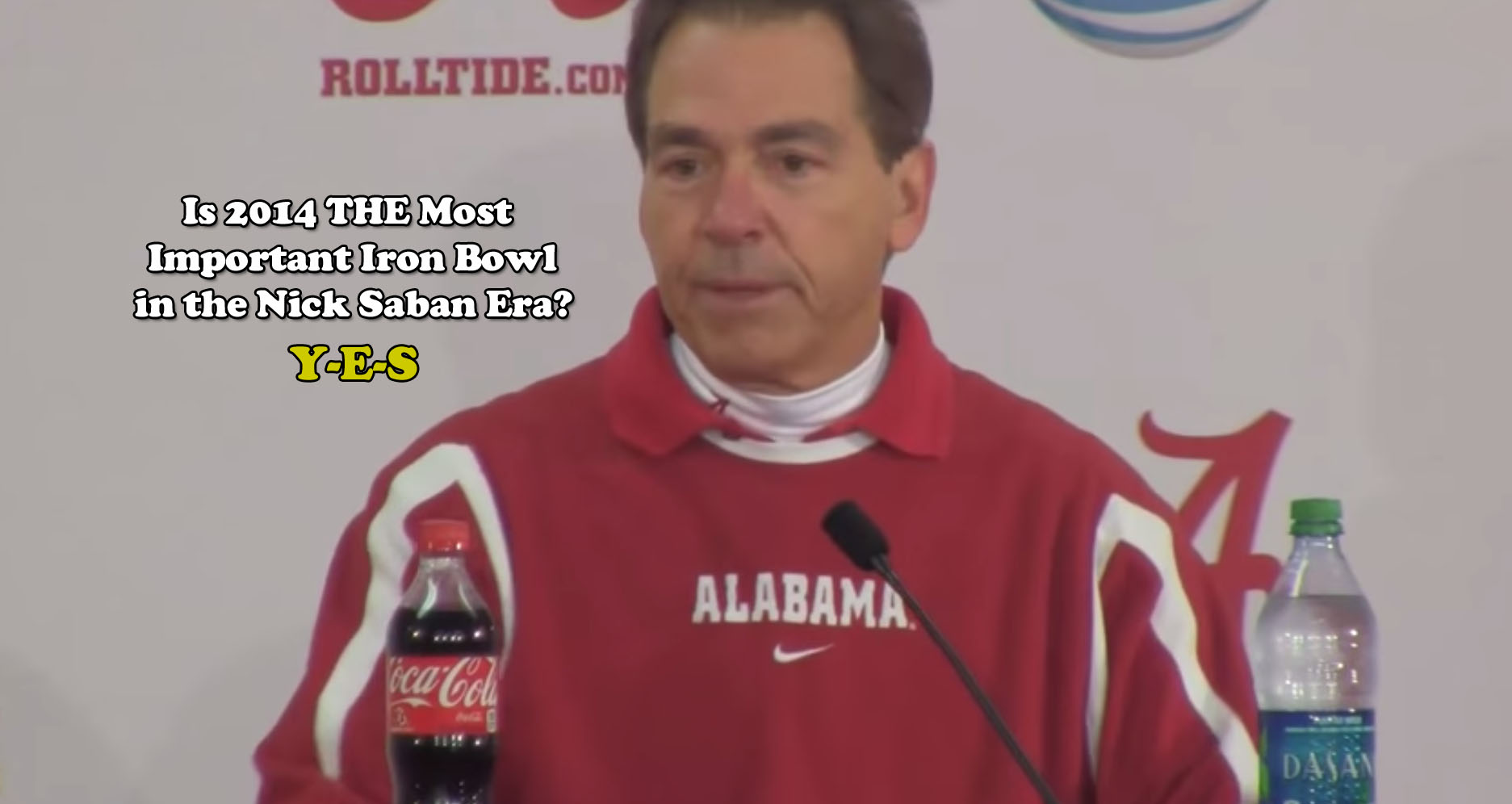 Visit Football Fanatics for Alabama Crimson Tide
Alabama Products For Sale:
Join Our
Alabama Crimson Tide Facebook Page!
Follow us on Twitter! AlCrimsonTide1
http://twitter.com/AlCrimsonTide1

Leave a Comment