College Football: SEC Programs on the Rise
By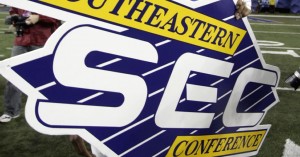 This article is originally from Touchdown Alabama Magazine (http://touchdownalabama.net/)
This season, college football fans witnessed something unusual. In recent years, the Southeastern Conference has been known for its devastating defenses and supplying just enough offense to get by. We truly beheld the changing of the guard this season. Whether it was the experienced leaders at the quarterback position or more explosive talent on the offensive side of the ball remains to be seen, but truth be told, the SEC put up points this season.
With the gridiron game in the books and national signing day finished, college football programs are starting to put plans into action regarding next season. As far as the SEC is concerned, Alabama is still the measuring stick and the target everyone is after. The Crimson Tide will look to reclaim its position back atop of college football glory next season.
The good news for Alabama is the majority of SEC teams next season will open up with a new quarterback under center. Auburn will return Nick Marshall to the fold for his first full season. Dak Prescott will return to Mississippi State and Bo Wallace comes back to Mississippi. With this being said Prescott and Wallace are the two most experienced quarterbacks the Tide will face next season.
When the phrase "teams on the rise" comes to mind, it usually means football programs that are headed in the right direction. For a while the powerhouses in the SEC were Alabama, LSU and Florida. With Johnny Manziel, Texas A&M made its way onto the scene and James Franklin helped Missouri become an exciting team to watch this season. Auburn's had its bright moments with junior college quarterbacks (Cam Newton and Nick Marshall) and South Carolina continues to be in the conversation under Steve Spurrier.
Two SEC schools shocked the world on National Signing Day, Kentucky and Tennessee. In 16 seasons (1992-2008) under Phillip Fulmer, Tennessee was a force to be reckoned with in the conference. The Volunteers were constantly in the conversation for SEC Championships and produced NFL talent including Peyton Manning, Tee Martin and Peerless Price. Tennessee won its only national title under Fulmer in 1998.
After Fulmer stepped down in 2008, the Volunteers went from a premiere program to a mediocre wasteland. Lane Kiffin and Derek Dooley struggled to get the program back on track. This season was Butch Jones's first year as head coach and despite the 5-7 record, Tennessee fans believe that he is the guy.  The Volunteers defeated South Carolina 23-21 and took Georgia down to wire before losing 34-31.
Tennessee brought in the No. 5 recruiting class in the nation. The class is stacked with talent on both sides of the ball. With Justin Worley, Marlin Lane, Marquez North, Alton "Pig" Howard and Jason Croom returning, the Volunteers will look to pull some upsets next season in college football.
Most of the time, the only two coaches we affiliate with Kentucky are John Calipari and Rick Pitino. For Mark Stoops, he plans to bring the fire and passion to Kentucky football next season. The Wildcats cracked the top 20 as they brought in No. 20 recruiting class this year. Will Kentucky win the SEC title this year? Certainly not, but with Maxwell Smith, Jalen Whitlow, Javess Blue and others returning, the Wildcats may shock a few teams.
Despite Ole Miss dropping from fifth in recruiting (2013) to 17th this year, the Rebels are still a potent team to look out for in the SEC. Of 26 commits, Mississippi pulled four of them from the ESPN 300. The Rebels have 15 four-star recruits. They signed a lot of physicality at the wide receiver position, including Dayall Harris (6'5" 183 pounds). With Bo Wallace, Laquon Treadwell, Donte Moncrief, Evan Engram and others returning, Mississippi will be in the conversation in the SEC West.
Believe or not, Dak Prescott wielded Mississippi State to a 7-6 season and a dominating victory over Rice in the Liberty Bowl 44-7. Though Prescott is more dangerous with his legs than his arm, it doesn't mean he can't effectively pass the ball.  This season, Prescott passed for 1,940 yards with 10 touchdowns.  Of 23 commits, the Bulldogs got two of them from the ESPN 300. Mississippi State brought in 4 four-star prospects and 17 three-star guys.
With Prescott under center along with Jameon Lewis, Nickoe Whitley, Jamerson Love and De'Runnya Wilson returning, the Bulldogs will aim to win more than seven games next season.
It's weird saying Auburn is on the rise, but it's actually true. After winning a national title in 2011 (2010 season), the Tigers went 3-9 (0-8 in conference) overall in 2012. With Gus Malzahn replacing Gene Chizik, Auburn made an incredible 180 degree turnaround. The Tigers notched a 12-1 record this season and won an SEC title.
Auburn brought in the No. 8 recruiting class in the nation. Unlike Alabama, the Tigers didn't rack up any five-star prospects. However, Auburn did bring in 12 commits from the ESPN 300. The Tigers signed a lot of size and speed at wide receiver, defensive back and defensive line. Though Tre Mason, Dee Ford and Nosa Eguae are pursuing the NFL, Auburn returns Marshall, Cameron Artis-Payne, Corey Grant, Ricardo Louis and more. As of right now, Malzahn is only coach in the SEC that has Saban's number. He is 2-0 against Alabama.
As the teams prepare for spring ball and summer camp, all eyes will be focused on getting to Atlanta for the 2014 SEC Championship Game. The question is which team on the rise will make a statement?
Stephen M. Smith is a writer and reporter for Touchdown Alabama Magazine. You can reach TDAL Magazine by logging onto http://touchdownalabama.net/
Visit Football Fanatics for Alabama Crimson Tide
Alabama Products For Sale:
Join Our
Alabama Crimson Tide Facebook Page!
Follow us on Twitter! AlCrimsonTide1
http://twitter.com/AlCrimsonTide1

Leave a Comment