Will Coker Win QB job? Time will tell..
By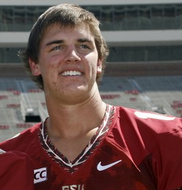 Alabama has officially signed Jacob Coker, last year's backup quarterback to Jameis Winston. After three years at Florida State, he is scheduled to graduate in May. At Alabama he should have two years of playing time.
Alabama normally doesn't bring in quarterbacks as transfers from other schools, but apparently coach Nick Saban's is hedging his bets by signing Coker. Alabama courses losing AJ McCarron to the NFL draft. One player that was noted as being a possible third option quarterback last year was Luke Del Rio, but he is now transferring the Colorado state. Alabama doesn't have a shortage of young quarterbacks, but it is vitally important that Alabama finds the right quarterback for 2014. The remaining quarterbacks are Blake Sims, Alec Morris, Cooper Bateman, Parker McLeod and David Cornwell.
Does this mean that Jacob Coker will be handed the starting job? Absolutely not. That is not how it works around Tuscaloosa. In coach Saban's process, you have to earn a job on the team. McCarron had to beat out Phillip Sims. Sims lost out, transferred, and the rest is history.
Coker has come in with a lot of accolades from his teammates and coaches at Florida State. Kirk Herbstreit pointed out on Twitter that Coach Jimbo Fisher "went w/ Jameis last yr because he's special, but told me numerous times that Coker was the real deal." Herbstreet then said the kid had "Ridiculous arm talent."
People might think I'm crazy but I think Alec Morris and Blake Sims will be in the mix. Will they win it? Time will tell, but Alabama needs to figure it out quickly this fall as we face the West Virginia Mountaineers in the opening game. The Mountaineers were only 4-8 last year, but they have a lot of returning starters coming back. Granted, the Mountaineers defense was atrocious this year, but you never know how that will gel for next year. I've got a feeling however that Alabama will pound West Virginia with a tough running game to take the pressure off our new starting quarterback. In fact, Alabama may platoon a couple of quarterbacks or even three to see who response the best to a game situation.
In regards to Jacob Coker, I'm sure he is a great kid and in fact has a big arm, but looking at his spring game footage, it frankly was not highly impressive to me. I haven't looked at his fall footage yet, but hopefully he is the "real deal" as Coach Jimbo Fisher stated.
I'm not saying that Jacob Coker will not be a great quarterback at Alabama. All I'm saying is he hasn't done anything yet, so there's no use in putting a lot of pressure on the kid. If he has the right stuff, he'll beat out Blake Sims and the other quarterbacks. Coach Saban has reviewed the tapes of Coker. He's brought in Lane Kiffin to develop him, now the race is on... he has experience... he has the arm.. does he have the "it" factor. Time will tell..
What do you think? Will he win it? Comment.
Visit Football Fanatics for Alabama Crimson Tide
Alabama Products For Sale:
Join Our
Alabama Crimson Tide Facebook Page!
Follow us on Twitter! AlCrimsonTide1
http://twitter.com/AlCrimsonTide1

Leave a Comment