Can Alabama Weather The Auburn Offensive Storm?
By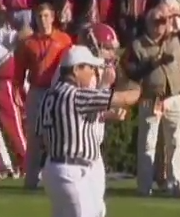 In 2009, when Gus Malzahn was offensive coordinator of Auburn, he orchestrated a near perfect "storm" at home over Alabama's 2009 national championship team.
Think about it for a moment.
Malzahn did not have the great players that Nick Saban had at that time, and he keep Alabama on its heels defensively. In the end, Alabama wore down Auburn
It is fascinating look back on the play-by-play strategies that Malzahn implemented as an offensive coordinator. During the first part of that game, Auburn kept Alabama on its heels.
If Malzahn can do that kind of thing with a great 2009 Alabama team, it is not a stretch to think he has a bag of tricks ready for Alabama. Alabama needs to be rady for the kitchen sink.
When Auburn came out in first possion in 2009, Ben Tate took the ball up middle for a one yard gain. The next play was a spint out pass for Mario Fannin for a 7 yard gain. Then, QB Todd went wide with a speed-option pitch to Ontario Mccaleb for a first down. Then, Malzahn pulled out a big of trickery from his repertoire. When it looked like everything was going right with a pitch to Ben Tate, WR Terrell Zachery took a reverse pitch and went 67 yards for a touchdown.
Then Auburn went for an onside kick. By halftime, Alabama and Auburn was in a dogfight in a 14-14.
Eventually, however, Auburn succumbed to the overwhelming talent of Alabama's 2009 national championship team. The final score was determined by a pass from Greg McElroy to backup running back, Roy Upchurch.
Alabama has to watch for misdirection in the Auburn schemes by simplifying their defensive strategies and staying home. Auburn like to get ball carriers on the edge out in space.
Malzahn will try to bring a perfect storm into Jordan Hare on Saturday. Let's hope that Bama is ready. I think they will be.
Here is a replay of the game:
Visit Football Fanatics for Alabama Crimson Tide
Alabama Products For Sale:
Join Our
Alabama Crimson Tide Facebook Page!
Follow us on Twitter! AlCrimsonTide1
http://twitter.com/AlCrimsonTide1

Leave a Comment