From Tebow to T-Bone: Does It Get Any Better Than This?
By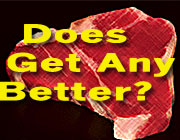 Take a moment and think about where we are at in the history of Alabama football. In the SEC championship, we equaled or highest win total in the history of Alabama football at 13 wins and we stopped the most prolific quarterback in the history of college football, Tim Tebow. Now we're presented with another challenge in the form of Texas.
In case you've forgotten how far we've come, remember back to the pitiful days of Mike Shula and Alabama fans witnessing Tommy Tuberville shoving his fingers in the air in victory. That sad state of affairs in Alabama history is nothing but a memory now has Nick Saban prepares in his third year to take the Alabama Crimson Tide to its 13th national championship.
In the way is a new foe that has defied one of the winningest college football programs in history, the Texas Longhorns. In all the times we have played Texas, we have only walked away without a victory each time. Seven defeats & one sister kisser to show for the games we played.... even through the heyday of Bear Bryant's glorious tenure. With the game coming up Thursday night we can put another one of those nails in the coffin.
If you consider the last game that each team played, you might think that Bama is prepared to have a T-bone dinner out of the Longhorns (..and you might be right), but I suspect the Longhorns will come out playing their hearts out and this will be a game to remember. I believe Alabama will come out victorious and it may come down to the toe of Leigh Tiffin. Nothing would surprise me about this team that has the heart of the champion after seeing what they did in the Tennessee & Auburn games to pull the victory out when they desperately needed it.
If Bama plays it's A game Thursday night, it will be like Mount Cody at an all-you-can-eat steak buffet at the local Western Sizzler. I certainly hope that happens, but even if Bama plays its worst, I believe Bama will feast in a victory. It doesn't matter to me if it comes from the toe of Leigh Tiffin or after a 4th string running back scores in mop-up duty. Victory will be just as sweet!
The key will be stopping the Colt McCoy to Jordan Shipley connection and pounding the interior of the Texas defense with Mark Ingram and crew. I believe we would do it.
If you're ready for some steak Thursday night, be sure to give me a shout out on my Facebook page or comment below!
Let's do it fans, it doesn't get any better than this.. Let's hook those horns and get us some T-Bone!   Enjoy your steak & savor the moment. 
Roll Tide!
Visit Football Fanatics for Alabama Crimson Tide
Alabama Products For Sale:
Join Our
Alabama Crimson Tide Facebook Page!
Follow us on Twitter! AlCrimsonTide1
http://twitter.com/AlCrimsonTide1

Leave a Comment