Saban Slams Ole Ball Coach
By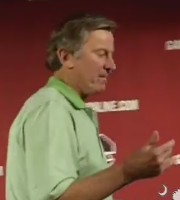 There is a new rivalry in the SEC and it's not between two teams; it's between two coaches.
For months, South Carolina head coach Steve Spurrier has been taking shots at Nick Saban here and there.
Spurrier has basically said that Saban wouldn't be as successful a head coach as he is if he were coaching anywhere else.
"He's got a nice little gig going, a little bit like (John) Calipari," said Spurrier.
"He tells guys, 'Hey, three years from now, you're going to be a first-round pick and go.' If he wants to be the greatest coach or one of the greatest coaches in college football, to me, he has to go somewhere besides Alabama and win, because they've always won there at Alabama."
Spurrier said that back in April. He also took another shot at Saban and the football program in July when he said it was easier to win a national championship than an SEC Title.
Being the cool customer that he is, Saban took Spurrier's comments in stride making little jokes here and there, but yesterday on the Dan Patrick Show, Saban repaid Spurrier for his comments.
"LSU wasn't winning when I went there. Michigan State wasn't winning when I went there. Toledo wasn't winning when I went there. And Alabama really wasn't winning when I came here. I guess I gotta go someplace else. I don't know."
Spurrier in my opinion is jealous because he is no longer the golden boy in the SEC any more. Many, including me at one point, thought Spurrier was the second greatest SEC coach of all time behind Coach Bryant.
But right now, Spurrier is not even third best in the conference and it just burns him up how Saban is now considered tops in the country right now.
Oh there are still plenty of fans and college football experts who still worship the Ole Ball Coach, but when it comes to being the best at what he does, these days he is barely in the conversation.
Visit Football Fanatics for Alabama Crimson Tide
Alabama Products For Sale:
Join Our
Alabama Crimson Tide Facebook Page!
Follow us on Twitter! AlCrimsonTide1
http://twitter.com/AlCrimsonTide1

Leave a Comment