Alabama Football Team Back to Practice Monday
By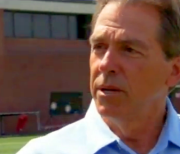 After a week off for spring break, the Alabama football team is back on campus for spring practice.  One bad news to report however is an injury due to a pick-up basketball game.  Alabama's Coach Nick Saban deadpanned, "We try to get these guys not to play basketball, but they all think they can play in the NBA." 
Seeing that Blake Sims is a third-year backup tailback with a chance to move up in the lineup following Tent Richardson's early exit, the likelihood of ever playing a huge role in Alabama's offense is pretty slim.  With Eddie Lacey & 5-star back-ups Dee Hart & T.J. Yeldon, the push for playing time would be tough for Sims.  However, his dual threat ability to throw the football does give him the ability to play a unique role in trick plays.  Missing spring practice will not help his chances at all to move up in the lineup as he finishes out his career at Alabama.
Otherwise, Coach Saban was fairly pleased with how the second session of spring practice 2012 turned out.  
Coach Saban said, "I think the big question for everybody is, how much will you invest in yourself and in the team so that we can get better. So that you can get better individually, and so that we can get better. It's special to be all you can be. You can't really take anything for granted. You've got to learn to be accountable and responsible to give effort, play with toughness, be accountable to do your job and execute on a consistent basis.
"Right now, we've got too many young guys that are talented guys that need to learn how to do that with more consistency. The mental toughness to be able to focus and keep an intensity level, regardless of circumstances or what happens.
"It will be interesting to see as we continue to add things, how much paralysis by analysis we really get, especially with the younger guys.  We're going to keep on, keeping on."
Alabama will be hosting a big high school coaching clinic for over 1000 Alabama high school football coaches this week. In the lineup of guest speakers will include Bill Parcells, Lou Holtz, Mickey Andrews, Bobby Humphrey, and the head coaches of all the 6 Alabama state championship teams. 
Coach Saban said it is Alabama's philosophy to give back to the profession in the form of a quality clinic.  The high school coaches will observe Alabama's football practices on Friday and Saturday practices.  Coach Saban said, ""We don't do anything different. We give the coaches the opportunity to see what we do in practice, how we coach, an opportunity to look at the drills we do, but we really don't do anything different."
One more interesting note is that Penn State's new coaching staff came to Alabama on Monday to observe the Tide's practices. 
Alabama has some holes to plug on both defense and offense as spring practice progresses.  There are always players who make a splash during this time of year and break into the starting line-up.  We will keep you posted on all the latest news out of Alabama's 2012 spring football practices.
Roll Tide!  
 

Visit Football Fanatics for Alabama Crimson Tide
Alabama Products For Sale:
Join Our
Alabama Crimson Tide Facebook Page!
Follow us on Twitter! AlCrimsonTide1
http://twitter.com/AlCrimsonTide1

Leave a Comment