Some People Fear Clowns, Coach Saban Fears….
By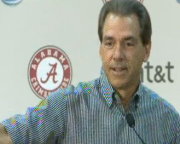 Funny Christmas story Coach Saban told the other day about his Christmas memories. Saban says as a child, he didn't fear clowns, he feared Santa Claus.
"I was actually sitting in church on Sunday -- actually on Saturday night -- and (thinking) how when I was a kid you think of all the things that go on during Christmas, and how everyone loves Santa Claus and all the traditions that we all sort of enjoy this time of year," he said.
"I just remembered how scared to death I was as a little kid of Santa Claus. We used to go to grandma Conway's on Christmas Eve and Santa Claus always came, and there were bunches of kids ? all my cousins, and was scared to death every time Santa Claus came. For the life of me, I can't figure out why. I guess I didn't know as much then as I know now.
You wouldn't think a guy as tough as Coach Saban would be afraid of anything, so to hear he say he was scared of Santa as a kid was kind of funny.
Saban said later on in life of course when he knew more about the meaning of Christmas he started to understand what Santa and the season of giving meant.
"Other than that, Christmas has always been good. It's not what you get, it's what you give. … I guess this is a good time to wish our fans and all our supporters everywhere to have a happy holiday and I think this is a real fun time of the year, but I think we all need to think of serving others too this time of year. That's probably really what Christmas is, more about giving."
Nice message coach.
Visit Football Fanatics for Alabama Crimson Tide
Alabama Products For Sale:
Join Our
Alabama Crimson Tide Facebook Page!
Follow us on Twitter! AlCrimsonTide1
http://twitter.com/AlCrimsonTide1

Leave a Comment