Spurrier and Bowden Talk BCS Rematch
By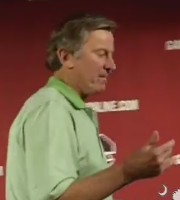 ESPN the Magazine did any interesting piece on the BCS Rematch between LSU and Alabama from the prospective of Steve Spurrier and Bobby Bowden who of course faced each other in a rematch for the national championship back in the mid-90's with Florida blowing out the Seminoles, 52-20.
"I'LL TELL YOU EXACTLY what playing someone twice in one season is," Bobby Bowden says without hesitation. "It's a dadgum headache. Especially with the national championship on the line."
People think it's going to be tough for Bama to defeat LSU when in truth, what will LSU have to do differently this time to beat Bama for the second time.
"To a lot of people, I'm sure it seems like, 'Well, here we go again," says LSU coach Les Miles. "Just pull out the playbook from October and win again. Do that and we'll get whipped."
What's going to be tough for Nick Saban is putting in new plays that LSU hasn't seen before and won't be prepared for which is what Spurrier said he had to do as well.
"Where do you add the wrinkles? "Certainly you want to give them something they didn't see before," said Saban.
"If you're playing a team you think you'll see again in January, you want to save a few pages of the playbook for later," said Spurrier with a wink. If the coaches withheld something, the players certainly didn't. "I watched that first LSU-Alabama game, "I don't think those guys held anything back, do you?"
Visit Football Fanatics for Alabama Crimson Tide
Alabama Products For Sale:
Join Our
Alabama Crimson Tide Facebook Page!
Follow us on Twitter! AlCrimsonTide1
http://twitter.com/AlCrimsonTide1

Leave a Comment