BREAKING NEWS: Jim McElwain Leaving to Become Colorado State's New Head Coach
By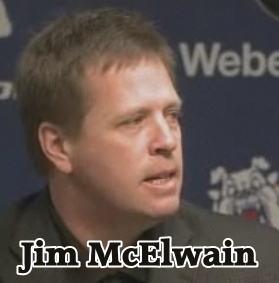 It hasn't been confirmed yet by either school, however it appears that the Jim McElwain flirtations with head coaching jobs has ended in marriage. It appears that the bride will be Colorado State.
Yes, you have heard right. Jim McElwain is taking the job that is being offered at Colorado State. This is according to reports among multiple other media outlets in both Colorado and Alabama (including TideSports).
Some reports are saying he will earn 1.5 million per year for 5 years. Do you blame the guy? That is great money considering he ONLY made $500K/yr at Bama.
Anyway... This really should not be much of a surprise to any Alabama fan that has been listening to the latest news surrounding the Tide's offensive coordinator in the last few days. After being courted by Memphis, Fresno State; the sweet spot for McElwain is the Colorado State Rams.
As for how he will handle "Game of the Century II", we will most likely find out this morning in the press conferences of both schools.
Coach Saban, according to a twitter report by Bama beat writer Izzy Gould, has already met with staff concerning the change of events.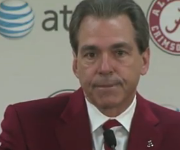 It is hard to know what will happen. He may stay until he can finish the year out by calling the offensive plays in the title game. Then again, he may feel like he needs to depart to start preparing for the task at hand.
Most Bama fans will have to agree that it will be hard to see McElwain leave with the offensive success we have seen in his tenure, however I suspect that Saban had a very keen part in how the offensive plays were called. Saban will simply plug in another offensive coordinator who will eventually look like an offensive genius. It is the Saban system... Pure and simple. He makes coaches.
In fact, Coach Saban loves to see his staff eventially move on to bigger and better things. He is one coach who loves to mentor and give a hand up in the coaching business. He remembers where he came from as a coaching assistant to now being the top coach in America.
Like it or not, Alabama will be replacing McElwain for another offensive coordinator next season. Saban will vet the best and brightest. It will be refreshing to see if it will be a simple plug-in or Saban will allow some new twists in the offense. A little more spice, some more passing, or whatever. If nothing else, it will be a new face for our offense to work for.
I don't expect this to affect recruiting or the process in anyway at Alabama. Coach Saban has everything under control and always plans ahead.
Lets just hope this is not a distraction in the preparations for the title game. We need to stay focused as a team.
I think Saban has this situation under control.
Roll Tide!
Visit Football Fanatics for Alabama Crimson Tide
Alabama Products For Sale:
Join Our
Alabama Crimson Tide Facebook Page!
Follow us on Twitter! AlCrimsonTide1
http://twitter.com/AlCrimsonTide1

Leave a Comment