Is There A Problem With the Heisman Trophy Voting?
By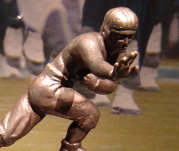 I know that the Heisman Trophy ceremony is over and Robert Griffin III won, but there is a problem with the system and I'm not the only one who recognizes that.
There were reports that Heisman votes were coming in before the season was even over with most of which apparently were going to Stanford's Andrew Luck.
The other problem is players who don't play that final weekend are being punished by voters.
One of the reasons I skipped watching the Heisman ceremony is because I knew Trent Richardson wasn't going to win. One of the reasons or the main reason I believe Trent didn't win was because he as being punished for NOT playing the final weekend of the season and Griffin was.
It's not Griffin's fault, but it is the fault of voters who basically blew off Richardson and the other finalist because they didn't play last week.
Body of work should matter, not what you did the final day of the season.
Body of work should also matter more then being the top prospect as Luck was. A lot of the reason Andrew Luck got a lot of early votes was because he is suppose to be the No. 1 draft choice in next year's NFL draft and also I believe because he gets a lot of credit for coming back for his senior season.
I wasn't impressed by him at all for the most and none of the other finalist was either. When asked by Tim Brando on Saturday who they though should win the Heisman, two of the finalist picked Trent; no one picked Andrew Luck.
Bottom line is the Heisman committee should do a better job with the voting process. Voters shouldn't be allowed to turn in their votes early and may be they should give voters two weeks to vote on the Heisman Trophy that way ALL the candidates are looked at evenly and get a fair shot.
RG3 might have won the Heisman, but I'm not sure if he was the best player.
Editor's Note: I don't really think the Heisman has a problem. It usually picks the right guy for the award. It happened to bounce our way in 2009 with Ingram, when his stats were not exactly on par with other historic Heisman runners of the past. His competition simply bombed in the last week. Richardson's main competition (RG3) flourished in the last week.

Robert Griffin III was a very great player and he is a very deserving winner. Maybe he got a boost from good scheduling, but I don't take anything away from how he played. He led the country in pass efficiency. That is pretty impressive if you consider the fact that he comes from Baylor where 5-star wide reciever recruits like Julio Jones & Reuben Randle don't come waltzing through the doors every day.

Alabama did fine historically long before we won our first Heisman. Trent had a great year, but if he had done better against LSU (especially the 2 hits for losses that knocked him off of a 100 yard rushing performance in the 4th). Frankly, if Alabama had taken care of business against LSU, and shown up to Atlanta to spank the Georgia Bullpuppies, the Heisman would be Trents right now.

As it is, I think Trent is proud to be #3 for the Heisman and for the Crimson Tide. His main focus now is on winning the upcoming game for the BCS Championship. Everything else doen't matter in terms of individual acheivement.

We need to keep all this in perspective in the future. National Championships are most important to Alabama fans, not Heismans.
-Chris
We have a debate going on here, what do you think?
Visit Football Fanatics for Alabama Crimson Tide
Alabama Products For Sale:
Join Our
Alabama Crimson Tide Facebook Page!
Follow us on Twitter! AlCrimsonTide1
http://twitter.com/AlCrimsonTide1

Leave a Comment