Dabo Swinney Puts Steve Spurrier in his Place
By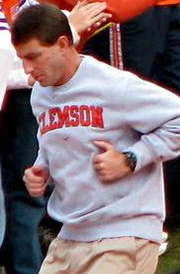 As if the Clemson/South Carolina rivalry needed to get more interesting, leave it to Steve Spurrier to add some gasoline to the fire last week after the Gamecocks defeated Clemson last week.
The Ole Boy Coach decided to open his mouth to crow so to speak about his team's victory which didn't sit will with the former Crimson Tide player and current Clemson coach.
Spurrier said this: "We ain't LSU or Alabama but we ain't Clemson either."
Now, you may be reading this comment and saying "ok, what's the big deal." But I think the big deal was Spurrier kind of putting down Clemson's football tradition which Swinney didn't take too kindly.
"I heard that. That kind of thing gets back to you," Swinney said. "I don't know if he said it or not, but I guess he did because there hasn't been a rebuttal. If he said that, I am disappointed because I was taught to win or lose with class. That is kind of a childish thing to put out there, to be honest with you. I think our program here speaks for itself. I guess I would have to say I agree with him. He is right. They are not Clemson and they aren't ever going to be Clemson, to be honest with you."
You think Dabo was just a little upset with Spurrier? He wasn't finished either.
"I have respect for their program, but South Carolina is not Clemson," he said. "There are a lot of differences. This is a place that has won a national title, 17 conference championships and two division titles. Heck, we have won more bowl games than they have even been to. I think our program has 100 plus more wins than South Carolina. That is reality. This is the best era in 115 years of South Carolina football is right now and they have done a great job.
"Coach Spurrier has been there for seven years, but after five years I think he had 35 wins and got a new contract and all that kind of stuff. After five years at Clemson, if I have only got 35 wins there is going to be a new coach here and you know what there should be because there is a different standard. He is exactly right – they ain't Alabama, they ain't LSU and they certainly are not Clemson. That is why Carolina is in Chapel Hill, USC is in California and the university in this state always has been and always will be Clemson. It's right here in Clemson, SC. You can print that. Tweet that."
ESPN's next documentary should be Go Cocks/Go Tigers about this rivalry because it just got interesting again.
Visit Football Fanatics for Alabama Crimson Tide
Alabama Products For Sale:
Join Our
Alabama Crimson Tide Facebook Page!
Follow us on Twitter! AlCrimsonTide1
http://twitter.com/AlCrimsonTide1

Leave a Comment