Where Are They Now? Walter Lewis
By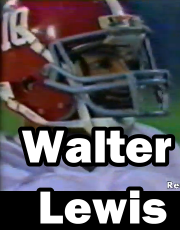 Walter Lewis still remembers his last Iron Bowl in 1983 when Alabama lost 23-20.
"I cried like a baby after that game," Lewis said in a 2008 interview. ''I didn't even make it to the locker room. I was crying when I hit the doorway."
Although Lewis was 2-2 all-time in Iron Bowls, his junior and senior years were probably the most memorable because it was Coach Bryant's last Iron Bowl and Ray Perkins first.
But Lewis' mark on not only the Iron Bowl, but most importantly on Alabama football is still felt to this day. Lewis, as most of you know, was the first African-American quarterback to start under center for the Tide.
Although Lewis started in the 1980's it was just over a decade removed from Alabama starting it's first African-American player, ever so for Lewis to be the starting qb at the time was HUGE.
Lewis being the first AA qb opened the door for quarterbacks like Vince Sutton, Danny Woodson, Andrew Zow, and even Phillip Sims.
Lewis would play a little pro football before coming back to the Capstone and getting his engineering degree and although he is beloved and admired by most Alabama fans, Lewis still feels as if he let the fans and his teammates down.
"If I had been 10 for 22, we'd have won," he said. "I wasn't there for my teammates when they needed me most."
Editor:
Also one of the most famous plays in an Alabama loss was thrown by Walter Lewis.  Not because of what he didn't do, but what he did.  In the 1983 Penn State game, Lewis threw a nice completion for a TD to Preston Gothard that would have been a game winner with today's video review.  Yet, it was ruled an incomplete pass by the officials .   Alabama went on to lose the game, and Alabama fans still talk about being cheated out of that win.  It was a marvelous pass that wasn't called right by the officials.  Check out the video below. 
Visit Football Fanatics for Alabama Crimson Tide
Alabama Products For Sale:
Join Our
Alabama Crimson Tide Facebook Page!
Follow us on Twitter! AlCrimsonTide1
http://twitter.com/AlCrimsonTide1

Leave a Comment