SI's Lars Anderson Nominates Tinker For Sportsman of the Year
By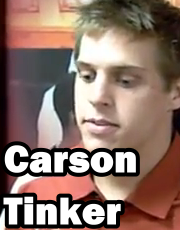 Most of you have heard the story of Carson Tinker of Alabama. For those of  you who haven't or had forgotten, let me remind you.
Tinker, who is the long snapper for the Tide,was injured and lost his girlfriend Ashley Harrison in the April 27th tornado that hit Tuscaloosa.
Here is an a piece from the SI article talking about Tinker's nightmarish ordeal on April 27th 2011.
Tinker was with his two roommates and his girlfriend, Ashley Harrison, that day in Tinker's off-campus house. He had just hit golf balls in the wide-open, grassy field across the street -- one of his favorite spots in T-Town -- when he returned inside to see his roommates and Harrison huddled around a television.
A weatherman was saying that a tornado was on the ground, and before they knew it, the twister was on top of them.
Tinker, 6-foot-1, 220 pounds, and Harrison ran to a closet. He wrapped his arms around her, holding her as tight as humanly possible, but then the wind roared. In an eye-blink, the house disintegrated and, next thing Tinker remembers, he was wandering around that field, in a daze, desperately calling out for Ashley.
Both Tinker and Harrison had been thrown some 75 yards. He suffered minor injuries; she passed away from a broken neck with barely a scratch on her body.
Tinker went on to say that he still misses her everyday.
Anderson said his reasoning for nominating Tinker was because "In the face of heartbreaking tragedy, he's showed courage, strength and character -- the pillars, I believe, of what this award should be all about."
Nice words for such a deserving and courageous young man.
<iframe width="420" height="315" src="http://www.youtube.com/embed/oGw835LnglU" frameborder="0" allowfullscreen></iframe>
Read more: http://sportsillustrated.cnn.com/2011/magazine/sportsman/10/31/anderson.tinker/index.html#ixzz1qzTxbUNv
Visit Football Fanatics for Alabama Crimson Tide
Alabama Products For Sale:
Join Our
Alabama Crimson Tide Facebook Page!
Follow us on Twitter! AlCrimsonTide1
http://twitter.com/AlCrimsonTide1

Leave a Comment