Mark Ingram for Heisman Trophy? I Would Not Bet Against It.
By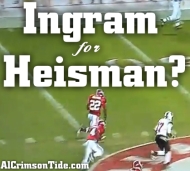 Mark Ingram has been running like a bull in a china shop lately. His 246 yard performance this weekend was the third-best total in University of Alabama history. His stats are on pace to beat Bobby Humphrey's rushing record at Alabama, and his punishing style of running is breaking the backs of some tough SEC defenses every week.
Now, as the nation beginning to take notice of this young sophomore running back at Alabama, the talk of Ingram becoming a front runner for the prestigious trophy is running wild in the media. Can it really happen? Alabama has never had a Heisman Trophy winner.
If you're like me, you get tired of that stupid question, "How many Heisman trophies has Alabama won?" being asked by announcers on TV every Alabama plays. The answer is always "0" of course. Personally, I'd rather win a national championship anytime rather than a Heisman, but it sure would be nice to put that dumb question to rest.
Even ESPN has begun to hype Ingram as a possible Heisman candidate with the kind of performance he put on Saturday night. If he continues to perform at this level until the end of the year, Ingram will most certainly get his share of ballots and possibly take home the prized trophy.
Ingram's teammates are beginning to promote the superstar as a legitimate Heisman candidate, but Ingram keeps it in perspective and stays humble. Ingram said, "It's good to hear my teammates think so highly of me, but I'm not really worried about that at all... If I just keep getting better and keep performing every week and this team keeps winning, that all will take care of itself."
In a year when seemingly nobody wants to take the lead to win the trophy, is a perfect time for Ingram to slip into contention. Who knows him may take home two trophies at the end of the year, Heisman and the national championship trophies.
What do you think? Will Mark Ingram won the Heisman Trophy? Time will tell, but it looking good so far.
Visit Football Fanatics for Alabama Crimson Tide
Alabama Products For Sale:
Join Our
Alabama Crimson Tide Facebook Page!
Follow us on Twitter! AlCrimsonTide1
http://twitter.com/AlCrimsonTide1

Leave a Comment