Alabama Beats South Carolina 20-6
By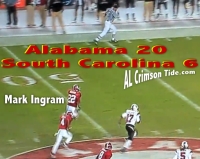 Nobody can say it was "pretty" as far a win goes, but in the eyes of the true Alabama fan, every win is "pretty."  The fact is that the stout Alabama defense and Mark Ingram's determined running style paid off as Bama took home a 20-6 victory over the South Carolina Gamecocks. 
The game was huge for Mark Ingram, carrying the ball for 246 yeard for the biggest home game for an Alabama running back in Alabama's fabled history.  Only two others, Shaun Alexander and Bobby Humphrey, have ran for more yards in one ball game and both were on the road. 
Ingram said after the record breaking performance, "We all make plays when we get the balls in our hands," said Ingram, who broke tackles all night long. "I was able to score and make some things happen when they gave me the ball."
In the fourth quarter, Ingram lined up at quarterback in the wildcat formation and essentially stabbed South Carolina in the heart to put the game out of reach. Mark Ingram the ball five straight times for 64 yards, capping it off with a more traditional 4-yard scoring run off of a pitch from McElroy.
Nick Saban was overflowing with praise for Ingram following the game, "Mark Ingram was fantastic," Alabama coach Nick Saban said after watching his sophomore running back run into the Bryant Denny history book and help put Alabama back on top of the nation's polls. "The guy ran with tremendous passion and heart and did a wonderful job out there. ... I can' tell you, if we had guys that could play like that, the sky would be the limit in terms of heart and character that he plays with."
Mark Barron showed amazing ability in returning a 77 yard interception all the way to put Alabama up 7-0 before they even made thier first down. The interception return for a TD by Barron was 11th longest in school history and set the tone for the evening that Alabama was there to play some tough defense.
The defense was outstanding and now ranks #1 in the country in total defense as Florida floundered against Arkansas. In addition, the Tide now are ranked #1 in the AP poll above Florida.
Closing thoughts:
South Carolina played a good game and the game seemingly was close til the end but Alabama prevailed when it had to, the fourth quarter. Do you ever wonder if Nick Saban's 4th quarter summer conditioning program is the reason for all these late victories in close games?
ROLL TIDE!
Visit Football Fanatics for Alabama Crimson Tide
Alabama Products For Sale:
Join Our
Alabama Crimson Tide Facebook Page!
Follow us on Twitter! AlCrimsonTide1
http://twitter.com/AlCrimsonTide1

Leave a Comment