FINAL SCORE: No. 2 Alabama 37, Tennessee 6
By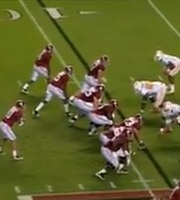 Alabama looked sluggish in the first half as they walked into the locker room in a 6-6 tie. To say that Alabama fans weren't nervous would be a lie. The atmosphere was eerily similar to the one in 2009 when Mount Cody had to pull out a miracle field goal block to win the Tennessee game in the waning moments.
But then, Alabama found its game in the 3rd quarter. The sleeping giant was now awakened and Tennessee was simply punished.
All "krunked up" (as Dre Kirkpatrick might say), Alabama was hitting on all cylinders on offense & defense in the second half as they steamrolled to a 37-6 victory.
Alabama came out on defense as its first defensive stop, and marched down for a TD drive with their first four passes connecting for 73 yards. Then AJ McCarron scrambled for a 2 yard TD run in an effort that showed true grit and determination from a young quarterback. It was very much like the one-footed sideline hop by Greg McElroy in the SEC Championship game of 2009. The same grit & spunk was on display in the remarkable turnaround in the second half.
The defense did not allow one first down in the second half, with one play being huge. It was the 4th down quarterback sneak that Alabama stuffed. Simms came within inches of 1st down and on review, he did not get it. One play later, Alabama threw a touchdown pass to Kenny Bell for 39-yard touchdown strike.
The rout was on.
Alabama took a game that for a half looked amazingly close, to taking their level of play to another level and playing like champions.
When the smoke cleared, Alabama had another cigar smoking victory over the Volunteers to revel in. (Not sure if the players did or not, it is officially not allowed by the NCAA. It is my guess that they might have blew a few cigar rings in private 🙂
Next comes LSU on November 5th, Alabama won't have the luxury of playing like the 1st half of the Tennessee game if they plan to win what is considered the de facto national championship game. Alabama will need to play the way they did in the 2nd half or Les Miles be grinning all the way to Louisiana.
I like the thought of him spitting out Tuscaloosa grass, throwing his cap, and hearing the ringing of Rammer Jammer in his his ears all the way to Louisiana instead. 🙂
There is a bye week for us and LSU. Get ready for Ali vs Frazier. It will be the game of the year.
Don't you love it?
ROLL TIDE!
Check out the highlights from Jeff Speegle of 33/40
Visit Football Fanatics for Alabama Crimson Tide
Alabama Products For Sale:
Join Our
Alabama Crimson Tide Facebook Page!
Follow us on Twitter! AlCrimsonTide1
http://twitter.com/AlCrimsonTide1

Leave a Comment