Who's Ready For South Carolina Fried Chicken? ..maybe make that 'Fraid Chickens
By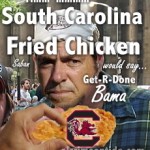 Is South Carolina so afraid of the Alabama Crimson Tide that the players are seemingly becoming unhinged the day before the big SEC battle tomorrow night in Tuscaloosa.    The players are dropping like flies.  Two to be exact.   One of the top running backs was suspended, and an offense of lineman just up and quit!
According to reports out of South Carolina, the offensive lineman who quit was junior Heath Batchelor, starting left guard from last week.  Batchelor reportedly said he "simply lost interest in the game of football."  It is when you consider the fact that he's going up against the most dominant defensive lineman in college football, Mount Cody, then no wonder he was shaking in his boots.  Smart kid!  LOL  Get out while going is good!  When you hear the word "avalanche!", and see Mount Cody coming down on you the next day... it might not be a bad idea to get out of the way!
The second-leading rusher on the team was purportedly suspended for violating team rules.  We have no idea what the rule was broken, but you never know if really deep down he is now sighing a sigh of relief....  After all, he doesn't want to get pounded by top defense in the country!
While all this is conjecture, the fact remains... Alabama is the overall most complete team in the country.  It is dominant in almost every phase of the game and really should be ranked number one in the country over Florida.  But for now, let them have their perch on top of the national polls, but we plan to meet them in Atlanta in December.
South Carolina just last week barely got by Kentucky, so it looks like the table is spread for Alabama to bring home the fried chicken of South Carolina in a handily-won victory tomorrow night... but they do have the "visor" on their side.  Never underestimate him, but we also should expect excellence from this team because truthfully is the best we have seen since 1992.
It's homecoming night tomorrow night, and Alabama smells blood.  Saban is getting ready to fry some chicken up for supper down in T-town.  The chickens are 'fraid of Bama and will soon be fried.    So get ready... Gamecock chickens are coming to town and it is time to fry them up!
If Nick Saban was Larry The Cable Guy he would say.. "Git r done!"
Roll Tide!

Visit Football Fanatics for Alabama Crimson Tide
Alabama Products For Sale:
Join Our
Alabama Crimson Tide Facebook Page!
Follow us on Twitter! AlCrimsonTide1
http://twitter.com/AlCrimsonTide1

Leave a Comment