Saban Talks SEC Expansion, Arkansas and Muschamp in Press Conference
By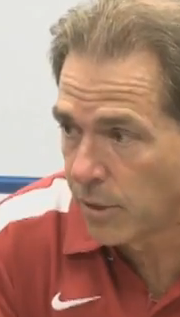 Coach Saban started his news conference talking about the Arkansas game and praising the players for their play.
"After watching the (Arkansas) film, our players really played hard. It was a very physical game that we had last week. We had good balance on offense," Saban said. "Defense did a really good job of limiting big plays. In a couple of circumstances, we had a couple of mental errors that led to big plays for them. Fortunately, because we were hustling and giving good effort, they never turned into big scoring plays."
Saban of course said that they could always have room for improvement, but you know Coach Saban thinks that about every victory and that what makes him who he is because he is never satisfied and we are glad of that.
Saban of course was asked about his relationship with Florida head coach Will Muschamp and unlike Muschamp who apparently took exception to the questions about he and Coach Saban, Saban of course was very gracious talking about Muschamp.
"Will is a good coach because he is a great teacher. He is a really hard worker. He has got about as much passion and enthusiasm as anybody that you're ever going to be around. He relates well with the players, and I think the players sort of feed off of his passion and enthusiasm in terms of the way he coaches and what he does. He believes in the fundamental discipline and hard work, commitment." Sounds familiar doesn't it?
Saban continued to say that he and Muschamp are still friends and talk on occasion, but not during the season. Saban says he hardly talks to anyone though during the season.
Saban ended his press conference talking about SEC expansion.
On Texas A & M joining the SEC, Saban said this:
"Texas A&M is a good school, and they've got academic as well as athletic tradition. It does open up a different market for the SEC, so there are positives and I'm sure that you could sit down and figure out some negatives if you wanted to take the time to do it. I don't know a lot about it to be honest. I know that these sort of things get decided way above, and I don't have any favorites. I just hope that the integrity of the rivalries that we have in our league do not get impaired by what is happening."
No major injuries to report other then CJ Mosely and Eddie Lacy are banged up and that Mosely may sit out a few days because of the injury he suffered Saturday. Sounds like both will be ready by the weekend for the Florida game.
Visit Football Fanatics for Alabama Crimson Tide
Alabama Products For Sale:
Join Our
Alabama Crimson Tide Facebook Page!
Follow us on Twitter! AlCrimsonTide1
http://twitter.com/AlCrimsonTide1

Leave a Comment