"It's the Size of the Fight in the Dog" – Cory Reamer A Force..
By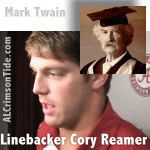 Written By Chris Chander
ONE PLAYER FOR SURE STOOD OUT YESTERDAY...
To quote a famous Mississippian... Mark Twain once said,

"It's not the size of the dog in the fight, it's the size of the fight in the dog."
Looking back at yesterday's 22-3 victory over Ole Miss, there was an unlikely senior contributor on defense who really really showed that he had the "fight in the dog" in Twain's home state.  This player definitely made his presence known in a big way in the victory by simply playing with more of his heart rather than his physical talents for the Crimson Tide.  That player is Corey Reamer.
Although Reamer was not a walk-on,  only comparison I could think of was the walk-on player from Notre Dame, Daniel "Rudy" Ruettiger,  whose life that the movie "Rudy" was made from.  (See it if you haven't already.  You won't regret it!)   Like the overachieving "Rudy",  Reamer was all over the field despite his size and speed.   All day long he was making plays disturbing the Ole Miss offense and kickoff return team.
Last week, the overachieving Reamer has stepped up to fill the shoes of the injured star linebacker Dont'a Hightower.  This week he moved back to his more familiar position at Sam linebacker.  Nico Johnson filled in at inside linebacker and the entire defense seemed to gel back to its pre-Kentucky form.
Cory Reamer's a player that plays a lot heart and it shows.  Yesterday he finished with four solo tackles (one for a loss of 3 yards), blocked a punt, delivered a bone crushing hit on kickoff return and forced and recovered a fumble, and over all involved in a number of defensive coverages and blitzes.  He was seemingly all over the field and Oxford, Mississippi.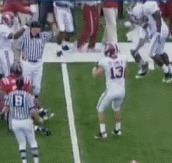 When Nick Saban came to how Alabama, he really didn't foresee a great deal of contribution coming from Reamer lead to some of his speed limitations at safety.  Simon said at the Ole Miss game about Reamer, "For a guy that was a safety that, to be honest, I didn't know if he'd ever play here, he's played a lot of good football for us over the last two years," Saban spoke further of Reamer. "Especially now that his role has increased, he's elevated his game tremendously."
Saban went on to praise the veteran linebacker's overall play, "Reamer's on about every special team. He's probably the best core special teams player we have in terms of his execution and all that he does," coach Nick Saban said. "And he's playing more defense now and has done a really good job in both regards."
Reamer was glowing in the hard-fought victory over the Ole Miss Rebels in the locker room following the game Saturday, but is not satisfied, a characteristic of this entire football team. "It's a great way to start," Reamer said. "Now we've got to continue doing what we've been doing to see the rest of the season out."
Keep it up Cory, let's go get a crystal football in Pasadena California!
Visit Football Fanatics for Alabama Crimson Tide
Alabama Products For Sale:
Join Our
Alabama Crimson Tide Facebook Page!
Follow us on Twitter! AlCrimsonTide1
http://twitter.com/AlCrimsonTide1

Leave a Comment