It's Haaaaaawg Killing Time Once Again!
By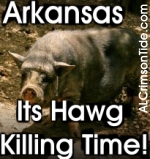 In the old days, everybody had a hog they would fatten up for killing and curing the meat.  In the fall, it was "Hawg Killing TIME,"  Arkansas, lookout... we have a HUNGRY TIDE team ready for HOG MEAT!
In the old days, when the hawg was cut and killed, it was then hung by a tree and scalded with boiling water to remove its hair.  The rest was just carving out the meat.  While this sounds gruesome if today's society, it was a part of everyday country life here in Alabama and the south.  I remember my wife's 90 year old granddaddy telling stories about secretly putting the hogs eyeball in a friend's overalls for a laugh!
To put it simply...  Bama is ready to bring home the bacon!  First line of business is sacking the Hogs aerial attack of the Tyler Wilson and his talented group of wide recievers.  If we can keep the pressure on Wilson, he will make mistakes and Bama's secondary will make him pay dearly.
Well get ready Pitrino!  Your SEC WEST TITLE hopes are going to DIE!  Saban will be "all crunked up" and Bama is ready for some pork.   Watch out when you reach in your pocket of offensive tricks... cause you never know what you'll find... its hog killing time!
Sooey! Sooey!
ROLL TIDE!
Visit Football Fanatics for Alabama Crimson Tide
Alabama Products For Sale:
Join Our
Alabama Crimson Tide Facebook Page!
Follow us on Twitter! AlCrimsonTide1
http://twitter.com/AlCrimsonTide1

Leave a Comment