Alabama Quarterbacks: Managing vs. Taking Over a Game
By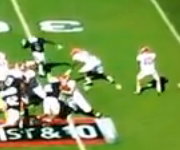 There has been a lot of talk about Alabama quarterbacks under Nick Saban managing a game and I have to ask, is that a good or bad thing?
There was talk about AJ McCarron managing the game against Penn State last Saturday because he kept drives going and he didn't turn the ball over.
I remember Greg McElroy being a little bit peeved at times when reporters would ask him about managing the Alabama offense which at times he did, but there were times last year when we saw that McElroy could do more then manage a ball game, he could put up some big numbers when asked.
Which got me to thinking; when was the last time Alabama had a quarterback who can just take over a game like a Cam Newton or a Tim Tebow?
John Parker Wilson, Greg McElroy, and AJ McCarron are all good game managers, but when was the last time Alabama had a dominate quarterback?
I thought maybe it was Jay Barker while he was under Homer Smith. I can't remember if it was his junior or senior season when Jay put up big numbers and finished in the top five for the Heisman Trophy, but that was the last qb I could think of that was a general threat.
Let me ask you guys this: would you rather have a game manager or a game changer? Personally, I want both; I want a quarterback that can take over if needed and a guy who is willing to put his numbers aside if it means winning the ball game.
But it sure would be nice to have a quarterback that is a threat as well.
Visit Football Fanatics for Alabama Crimson Tide
Alabama Products For Sale:
Join Our
Alabama Crimson Tide Facebook Page!
Follow us on Twitter! AlCrimsonTide1
http://twitter.com/AlCrimsonTide1

Leave a Comment