Trey DePriest & Vinnie Sunseri: The "BRUISE" Brothers
By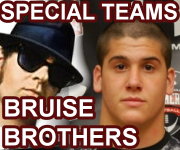 Alabama's true freshman Trey DePriest & Vinnie Sunseri are knocking heads on special teams with a fire in their bellies and opponents are absolutely paying the price.   They need to be called the "BRUISE" Brothers, because of the bruising they are inflicting on the other teams returners.  
A lot of people knew these boys were ultra-talented coming out of high school.  Especially DePriest, he was a 5 star linebacker out ofOhio.   Sunseri was a 3 star. 
With all the recruiting stars to make any college coach salivate, these guys did not rest on their credentials.  They got to work and enrolled early in order to practice in the spring with the upperclassmen. 
Not that it really mattered.  Headhunters like this are born, not necessarily trained.    A player either has the mentality to do it well or not. 
In the first kickoff, Sunseri honed in on the first kickoff returner and put his "_ss in the dirt."  (as some coaches might say)  In the next kickoff, Depriest began punishing returners as well starting a string of fierce hits in special teams duty.   
DePriest definitely has a nose for the football.  He had a team high 10 tackles in the first game.  Incredibly six of those came on special teams.   That folks, is pure special teams talent. 
Coach Saban loves it.  He has said that it helps to have players who are dedicated to only special teams.   
"So it's really, really good for our team when you have four or five guys who are really good special teams players who aren't starters," Saban said. "And that's what they look forward to and that's what they prepare for. That's what they do. And you feel like they can do it as well as anybody on the team and you're certainly not making any compromises to play them to hold somebody else out from doing it."
Coach Saban went on to talk about how exceptional Trent Richardson was on special teams.   He would rather use players who are playing primarily special teams.   It prevents unnecessary injuries to offensive or defensive starters.
In the first half punt return against Penn State, Sunseri made the outstanding open field block that freed Maze up to take off up the sideline.   The game changed in Bama's favor. 
 The enthusiasm is contagious. 
"Oh, man. Them boys go down there and bust some heads. And that's what we need," said cornerback Dre Kirkpatrick. "We build off their energy. They start the game off kickoff return. They're gonna start the game off. Whatever kind of momentum or energy they bring to the game we're gonna feed off of it."
They just need to do a sequel to the "Blues Brothers" and call it the "BRUISE Brothers 2"   for Vinnie and Trey, the Alabama special teams mafia. 
ROLLTIDE!
License for phpBay Pro is invalid.
Visit Football Fanatics for Alabama Crimson Tide
Alabama Products For Sale:
Join Our
Alabama Crimson Tide Facebook Page!
Follow us on Twitter! AlCrimsonTide1
http://twitter.com/AlCrimsonTide1

Leave a Comment