Finebaum Banned at Auburn?
By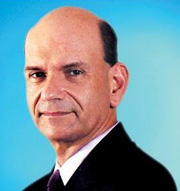 Little brother apparently is at it again. According to the Capstone Report, radio talk show host Paul Finebaum may be banned at Auburn.
The story is that Finebaum decided to take himself to the Loveliest Village for the Mississippi State game and was treated quite rudely by our brothers in Southeast Alabama.
They heckled him; big surprise right? Finebaum has been on the Auburn target list for the past few months because of the NCAA investigation into Cam Newton and recently because of Bama grad Danny Sheridan's dealings with the NCAA about the same situation.
This story really gets interesting because some AU fans have sent letters to Jay Jacobs complaining and wanting to ban the talk show host.
"Dear Mr. Jacobs, Please consider denying all press credentials and player/coach access to Paul Finebaum. He has engaged in a baseless, non-stop smear campaign against Auburn. This member of the Auburn family has had enough. We can't stop our enemies from running their mouths, but we don't have to take their calls or invite them over to our house."
Auburn fans of course believe that not only is Finebaum out to get them, but Mississippi State and of course Alabama as well. So, this shouldn't be a surprise that they are now attacking Finebaum.
But as several callers to his show pointed out today, he has been tough on Alabama as well, as recently as the Shula Era, but I don't recall the university receiving emails from fans asking the athletic department to ban him from the UA campus, nor would they entertain the idea.
I think the University of Alabama is more concerned about winning then what a talk show host says about them.
ROLL TIDE!
License for phpBay Pro is invalid.
Visit Football Fanatics for Alabama Crimson Tide
Alabama Products For Sale:
Join Our
Alabama Crimson Tide Facebook Page!
Follow us on Twitter! AlCrimsonTide1
http://twitter.com/AlCrimsonTide1

Leave a Comment