Do the Bama Faithful Cheer for Auburn?
By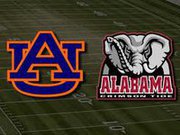 Ok Bama fans I have to ask, when Alabama is not playing Auburn do you cheer for the Tigers?
I know some of you have relatives or even your children who have ties to Auburn or another SEC school and maybe are FORCED to cheer for them because of those ties.
I have friends who have gone to Auburn and have family members whom I call traitors, who cheer for Auburn as well. It's all fun and games of course, but I can't bring myself to cheer for the Tigers in anything. My brother-in-law cheers for Auburn in football, but cheered for Alabama in basketball when his friend and little brother played in Tuscaloosa.
I found myself yesterday watching the Carolina Panthers and even though he is no longer with Auburn, I couldn't bring myself to cheer for Cam Newton because I dislike him so much. So, it didn't hurt my feelings that he tasted defeat for the first time as a pro.
Yes, I know it's kind of silly, but my loyalty to the Crimson Tide is so fierce, I just can't bring myself to want to cheer for Auburn. Now, during the bowl season, I cheer for other SEC schools because of SEC pride, but not Auburn.
I've heard people from both sides say when the teams aren't playing each other, they cheer for the other side; I believe some of that is bologna, but I'm sure there are fans out there that feel that way, but I'm guessing it's not many.
What's your opinion or your best family divided stories?
COMMENT!
ROLL TIDE!
License for phpBay Pro is invalid.

Visit Football Fanatics for Alabama Crimson Tide
Alabama Products For Sale:
Join Our
Alabama Crimson Tide Facebook Page!
Follow us on Twitter! AlCrimsonTide1
http://twitter.com/AlCrimsonTide1

Leave a Comment