Is Phillip Sims Becoming Disgruntled?
By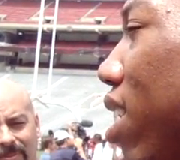 During Alabama's 27-11 victory over Penn State Saturday, quarterback AJ McCarron played the whole contest except for the last minute or so of the game, that's when back-up qb Phillip Sims came in and closed out the game.
Sims on his Twitter account, sounded more then a bit disappointed about his situation: "Dont even feel like goin out....too much on my mind right now."
It's hard to read between the lines, but it's not hard to figure out that Sims either is not happy with himself or with the coaches for not playing him more on Saturday.
Saban keeps praising both qb's saying this is STILL is a competition, but you have to wonder is he just saying that to keep one if not both of his quarterbacks happy and motivated.
McCarron obviously has stepped forward as the leader of the offense especially after Saturday and Sims rather then saying he is going to have to work harder, seems to be pouting.
It's not unheard of for Coach Saban to use certain tactics to motivate his players and maybe this is a way to motivate Sims and get his attention.
One thing you can say about Coach Saban is he is going to put the best players out there that will give us a chance to win.
Hopefully, Sims will just suck it up and wait his turn like the quarterbacks before him or just play better so he can get out on the field. It would be a shame if he gives up and moves on because he felt like he wasn't given a fair shake.
Roll Tide!
License for phpBay Pro is invalid.
Visit Football Fanatics for Alabama Crimson Tide
Alabama Products For Sale:
Join Our
Alabama Crimson Tide Facebook Page!
Follow us on Twitter! AlCrimsonTide1
http://twitter.com/AlCrimsonTide1

Leave a Comment