Penn State Blogger thinks Tide RB overrated
By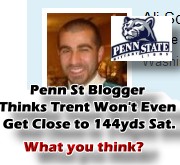 As I was reading my news this morning, I came across an interesting article about Tide running back Trent Richardson from Penn State blogger Ali Soheilian. Soheilian seems to think because of Richardson's performance last week in the Kent State game (he ran for just 37 yards but had three touchdowns) that he will probably have the same type of performance this weekend against the Nittany Lions.
This is what Soheilian said in his blog 50 Yard Lion:
"T.Richardson also ran for 37 yards on 13 carries last week against Kent State. This year's team is way different than last year's team. They had a steady offensive line against our depleted defensive line last year. This year, we are two deep across the board, while they're still shuffling the left side of their line around.
Can T.Rich run for 144 yards again this year....Yeah, he can. Will he run for that much? I don't think he'll even get close. Fans have to break out of this tendency of "because it happened last year, its going to happen this year" because in most cases, this is not true."
Hmmm, interesting huh? Now, how after one week's performance this person came to that conclusion is beyond me, but after reading a few comments, most Bama and PSU fans didn't seem to fall for Sohelilian's logic which seems to be based on "well it can't happen again right?" (talking about last year's performance). I guess we'll know Saturday if Sohelilian was right. Here is his twitter: http://twitter.com/#!/nittanylionsgo
What do you think?
License for phpBay Pro is invalid.
Visit Football Fanatics for Alabama Crimson Tide
Alabama Products For Sale:
Join Our
Alabama Crimson Tide Facebook Page!
Follow us on Twitter! AlCrimsonTide1
http://twitter.com/AlCrimsonTide1

Leave a Comment