Video: Alabama Wide Receivers & Quarterbacks
By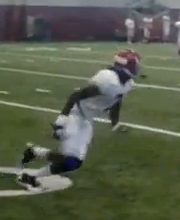 Alabama Wide Receivers are looking equally sharp, even though Kenny Bell let a throw shimmy through his hands right the first of the video (honestly the ball was high but he had his hand on it). You will see DeAndrew White catching everything coming his way. He is fast, cuts with precision, and has excellent pass catching ability on the run and on the hitch. Look for this young wide receiver to do great things this year when Alabama throws his way. The entire receiver corps looks to be in great shape even though there is not anyone with a big body like Julio. With Duron Carter's delay in admission, it looks like the smaller receivers will have to do it all.
Here is a list of Alabama's receivers:
7 Kenny Bell WR So. RS 6-1/175 Rayville, LA (Rayville)
88 Michael Bowman WR So. 2V 6-4/225 Rossville, GA (Ridgeland)
81 Hardie Buck WR Jr. SQ 5-9/190 Birmingham, AL (Vestavia Hills)
5 Ronald Carswell WR Fr. HS 6-0/180 Maon, GA (Westside)
8 Duron Carter WR Jr. TR 6-4/210 Ft. Lauderdale, FL (Aquinas)
43 Taylor Conant WR Jr. SQ 6-0/195 Tuscaloosa, AL (Tuscaloosa Academy)
11 Brandon Gibson WR Sr. 1V 6-2/194 Mobile, AL (UMS-Wright)
15 Darius Hanks WR Sr. 3V 6-0/185 Norcross, GA (Norcross)
4 Marquis Maze WR Sr. 3V 5-10/180 Birmingham, AL (Tarrant HS)
24 Nathan McAlister WR So. SQ 5-11/165 Russellville, AL (Russellville)
83 Kevin Norwood WR So. 1V 6-2/193 D'lberville, MS (D'lberville)
80 Marvin Shinn WR Fr. HS 6-3/193 Prichard, AL (Vigor)
81 William Strickland WR Sr. 6-0/191 , ()
16 Bradley Sylve WR Fr. HS 5-11/170 Port Sulphur, LA (South Plaquemines)
2 DeAndrew White WR Fr. RS 6-0/181 Houston, TX (North Shore)
9 Nick Williams WR So. SQ 5-10/185 Ft. Lauderdale, FL (St. Thomas Aquinas)
13 Danny Woodson, Jr. WR Fr. HS 6-1/205 Mobile, AL (LeFlore) (not on campus yet)
License for phpBay Pro is invalid.
Visit Football Fanatics for Alabama Crimson Tide
Alabama Products For Sale:
Join Our
Alabama Crimson Tide Facebook Page!
Follow us on Twitter! AlCrimsonTide1
http://twitter.com/AlCrimsonTide1

Leave a Comment