The Next Explosive Superstar Runner At Alabama – Dee Hart
By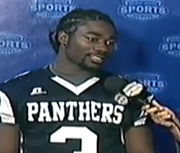 Dee Hart  - The Next Superstar Punt Returner / Runner At Alabama
One of the top recruits of this year's recruiting class has already got a spring practice under his belt by graduating early from high school. His name is Demetrius Hart, or Dee Hart for short. You will be hearing that name called often this fall. He gives Alabama that small elusive gamebreaker much in the same way that that "Deuce" David Palmer did in 1992 & the gamebreaking punt returns of Javier Arenas.
Standing at 5 foot 9 inches & 189 pounds, Hart may seem small in the eyes of some, however he has huge potential to break big runs in the open field.
Hart ran up big yardage totals at his high school at Dr Phillips High in Orlando, Florida. In his high school career, he accumulated 2,224 yards rushing and totaled an amazing 3,394 all-purpose yards and 50 touchdowns. In fact at one point, he had 12 consecutive games with 100 plus yards per game.
The attention made him a 5-star prospect on Rivals.com that got the attention of all the schools around the country. At first, he committed to Michigan, but Rich Rodriguez left and Dee Hart gave Alabama a second look. Then he signed the dotted line for Coach Saban and came to play under the wing of another Florida high school great, Trent Richardson. However, you can thank one of the other recruits on Alabama's list & a close friend of Hart, Hasean Clinton-Dix, for encouraging him to come.
Before he stepped on campus at the Capstone, he was invited to the 2011 U.S. Army All-American Bowl for the top blue chip prospects in America. The annual game was electric as a record crowd experienced the talents of Dee Hart as he put on a dazzling show. He racked up 101 yards on only 8 carries verses the top talent in the high school ranks and walked away the game's MVP. In fact, he set a game record with a 69 yard run that beat the previous record of 50 yards by Adrian Peterson in 2004.
Because he is such a good student, Dee Hart was able to graduate early and participate in spring practice. This will prove valuable for him come fall as I predict Alabama to use him often to stretch the defense from sideline to sideline. The result will more open lanes for the Alabama interior running game with Richardson & backup Eddie Lacy.
Come A-Day, Hart made his presence know as he burned the veteran defense for the only rushing TD of the day on a 17 yard jaunt down the sideline. His speed and quickness were obvious to the huge crowd looking at this new young gun in Saban's arsenal.
Now he has started his offseason training in Coach Saban's famous Fourth Quarter Program. The hope is that the kid improves to the point of being a solid third back who can be a game breaker for Bama when T.R. or E.L. need a break, but his biggest contribution will be as punt returner.
Look for a similar running game as we seen in 2009 on the way to the national championship.
Coach Saban is not a coach that usually doles out praise unnecessarily, but in speaking about the true freshman Dee Hart, he is quick to talk about the upside of this new player at Alabama. In speaking with an AL.com reporter, Saban said "Dee Hart is a very bright guy, learns things quickly, is very instinctive on the field and seems to have a natural knack in space to catch the ball and has good ball judgment."
He then went on to say "I have been impressed with Dee Hart overall."
There you have it. Coach Saban is impressed with what he sees. Get ready to see Dee putting on a show in the punting game and possibly spelling T.R. & E.L. Don't be surprised to see him come in on some trick plays or wildcat formations every once and a while to keep the opposing defenses on their heels with his speed.
The future is bright with Dee Hart eletrifying Bryant Denny & other stadiums across the SEC! Can't wait!
ROLL TIDE!
Dee Hart running in highschool.
Visit Football Fanatics for Alabama Crimson Tide
Alabama Products For Sale:
Join Our
Alabama Crimson Tide Facebook Page!
Follow us on Twitter! AlCrimsonTide1
http://twitter.com/AlCrimsonTide1

Leave a Comment