Why I Think Cyrus Kouandjio Will Be A Force This Fall
By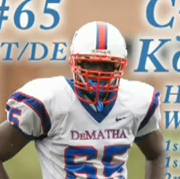 He was the cherry on top of a great Alabama recruiting class this last spring. At 6'7 and 322 lbs., Cyrus Kouandjio is the prototypical offensive tackle. If you have ever seen the movie, The Blind Side, about ex-Ole Miss Rebel, Michael Oher, you will understand what I am talking about.
Ranked by many services as the top high school player in the nation, Cyrus Kouandjio, surprised many with his waffling on signing day. First he commits to Auburn, then days later he signs with the Crimson Tide. His commitment could not have come at a better time for Alabama.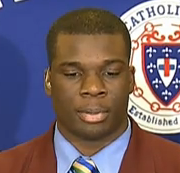 First of all, Alabama lost All-SEC offensive tackle, James Carpenter, to the NFL this spring. To make sure that there was not an issue with depth, Aaron Douglass transferred in only to later be tragically found dead in Florida.
In spring, Alfred McCullough, was the primary competitor. At the end of spring practice, all-SEC right guard Barrett Jones moved to left tackle. The result was a great showing in the A-Day game.
Unquestionably, Alabama wants the big guy Cyrus Kouandjio to move in (much like Andre Smith) and contribute immediately as a true freshman. He is physically a monster, but the fact is that it will take some time to understand the nuances of the college game. Especially considering that that Nick Saban uses a complex NFL-style offense with lots of checks & reads on the line.
If Cyrus is mentally up to the challenge, look for him to be a freshman All-American. He will then be All-SEC by his sophomore year & All-American by his junior year. He will only get better as the strength and conditioning team at Alabama puts more pure muscle on his huge frame.
I have a feeling that by mid-season, he will be on the starting offensive line. He may even possibly be starting by Penn State.
It remains to be seen, but if you take a look at his high school film footage, you can just tell that he will be ready for the move up to college football. The speed of the game is fast, however he has very fast feet for a big man.
One part of the video below, you will see a fast defensive end trying to run around him. Cyrus moves easily with the player all around the quarterback without collapsing the pocket. In fact, he blocked the guy back 10-15 yards from the QB.
Alabama's young quarterbacks need protection more than anything, and I think that C.K. will provide the bulk & speed at left tackle to make a huge difference in the Alabama offense all around.
Some may call into question my opinion about C.K. playing as a true freshman, by citing D.J. Fluker but I think one of the big issues with Fluker was conditioning. If you look at Cyrus, it is very easy to see that he is very chiseled & ready for college ball.
So with that, I will be saying that Cyrus Kouandjio will be the top break-out player on the Alabama team this fall. I believe the move by Barrett Jones will only serve as an insurance policy.
We will see. If I am right, Alabama's offensive line will be a force to be reckoned with. Can't wait to see…

ROLL TIDE!
License for phpBay Pro is invalid.
Visit Football Fanatics for Alabama Crimson Tide
Alabama Products For Sale:
Join Our
Alabama Crimson Tide Facebook Page!
Follow us on Twitter! AlCrimsonTide1
http://twitter.com/AlCrimsonTide1

Leave a Comment