Do A-Day Crowds Influence Recruiting? Y-E-S!
By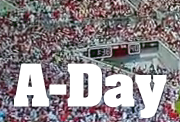 Alabama is second-to-none in spring game attendance among all of college football and it is definitely playing a role in influencing recruiting results.
Last year, even though it was televised, Alabama's A-Day game drew 91,312 fans to what is essentially a glorified football practice. This seems like a lot of fans, but it was the second biggest crowd in A-Day history. The first was the 92,138+ who witnessed A-Day festivities in 2007. Many wanted to "see the man" named Saban, who was soon to bring home a national championship.
At A-Day, the air is electric with anticipation to see the latest in incarnation of the Crimson Tide hitting each other. However, for one important segment of the crowd, the recruits, it provided an important selling point when they witness the adulation of the crowded stadium.
One perfect example is Alabama first 2012 star recruit, Eddie Williams. One of the reasons he picked Alabama was the impression of the crowd at the A-Day game. In fact in the article, it said that the A-Day crowd "blew his uncle away" and that he fell in love with the campus.
If you have a chance this spring, you need to take in an A-Day game. The game will be held on April 16 and will feature the unveiling of Coach Nick Saban's statue as the 5th coach in Alabama history to bring home the bacon in the form of a national championship.
The atmosphere will be electric if you, I, we all head down to the Capstone on April 16th to influence the atmosphere of Bryant Denny... you never know how it might influence a young and talented recruit.
Roll Tide!
PS: Watch the Alabama crowd last year doing the wave at A-Day! Amazing! Also will have some Eddie Williams highlights!
License for phpBay Pro is invalid.
Visit Football Fanatics for Alabama Crimson Tide
Alabama Products For Sale:
Join Our
Alabama Crimson Tide Facebook Page!
Follow us on Twitter! AlCrimsonTide1
http://twitter.com/AlCrimsonTide1

Leave a Comment